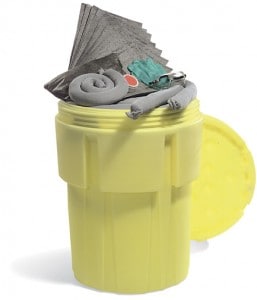 If you're company deals produces, processes, stores or otherwise 'handles' chemicals, you'll need the appropriate absorbents on hand to maintain a safe and compliant workplace. In the event of a spill, absorbents will allow you to effectively contain and clean the chemical in less time. But with so many different types of absorbents ranging in size, material, shape and construction, how do you know which ones to choose? Keep reading for a breakdown of chemical absorbents.
Chemical absorbents are basically broken down into the three following categories:
Universal – The most popular category of chemical absorbent is known as universal. Basically, universal absorbents are intended for both oil and water-based chemical spills. Due to their versatility, most companies choose this type of absorbent.
Oil-Only – Oil-only absorbents are just what they sound like — designed specifically for oil-based spills. If your company deals strictly with oil-based chemicals, then you'll want to choose this type of absorbent in the event of a spill.  Oil tends to float higher than water, so booms are oftentimes used to contain the spill.
Hazmat – The third category of chemical absorbent is known as hazmat. This category of absorbent is designed for aggressive chemicals which universal or oil-only absorbents are unable to handle. In addition, hazmat absorbents can also be used to clean water and/or oil-based chemical spills.
Different Types of Chemical Absorbents
There are several different types of chemical absorbent products, each of which has its own unique purpose. Absorbent pads, for instance, are placed directly on top of a spill to soak up the chemical. As long as the pad is designed for appropriate chemical, it will effectively soak it up. Some companies also use pads as a preventive measure to reduce the chance of a work-related accident. You could place a couple pads underneath a forklift storage area to prevent oil from spilling onto the floor.

Another type of chemical absorbent product are booms. These are typically used for larger spills which aren't easily contained with mats or pads. The boom is used to contain the chemical spill within a certain area while slowly absorbing and soaking it up. No matter how large of a spill your company is dealing with, booms offer a safe and effective way to contain and control it.

Of course, basic rolls are another type of chemical absorbent that shouldn't be overlooked. When a small spill occurs, simply wipe it up with a couple sheets of an absorbent roll.

[sc:date]