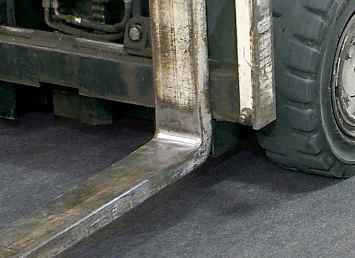 Quick Overview
Super absorbent.
16 ounce polypropylene.
Non-penetrable backing.
Prevents damage to floors.
Prevents slip and falls.
Use inside or outside.
Easy installation - just place on floor.
Available in 6' & 3' widths up to 150'.
6'x8' most popular forklift mat size.
Purchase in rolls and save.
Charcoal gray color.
Can last for years.
Bargain prices on Forklift Mats. Order today.
Prevent Slip and Falls - Protect Your Warehouse Floors.
The forklift mat will help to prevent slip and falls and protect your floors from getting damaged from oils or battery acids. If you have forklifts on site or other material handling equipment you know they can leak hydraulic fluids, oil or battery acid. Oils can be very slippery on concrete floors. Battery acid leaks can permanently damage concrete floors. When parking your forklifts for overnight, when recharging or doing maintenance, park them on a forklift mat to absorb any leaks.
Super Absorbent
The forklift mat has a super absorbent polypropylene (16 ounce) top side and a non-penetrable, non-skid vinyl backing. Fluids will be absorbed into the mat and they will not reach the floor under the mat.
Can Last For Years
Driving on to or over the Abzorb oil mat will not damage it. The only way you will damage the mat is by turning the wheels while parked on it. Mats can last for many years - depending upon the amount of fluids leaked.
It is economical to purchase the forklift mat in rolls and cut it yourself to desired lengths. It can easily be be cut with a razor knife. Custom sizes available.
The absorbent mat is also available in 3' widths in lengths of up to 150'. Dispose of in accordance with local, State and Federal regulations.
Technical Info
16 ounce polypropylene top side
Vinyl backing
Charcoal gray color
Compliance Info