Quick Overview
Economical design with fast set up and sturdy support berm walls
Great secondary containment for larger containers, IBC, or overpacks
Collapsible sidewall supports quickly lower and raise for easy access of vehicles/equipment
Heavy duty Copolymer and PVC supports offer years of service
Excellent chemical compatibility with oil, petroleum, hydrocarbons and water
Portable units come in 19 different lengths as well as custom sizes
Spill berms feature 12"H walls with 179-7405 gallon capacities
Meets SPCC and EPA requirements
From $609.97

Product Information
Our Manual Collapsible Wall Containment Berm is an economy model that sets up fast to collect leaks and drips from machinery or vehicles. They are constructed with heavy-duty Copolymer and a PVC frame sidewall perimeter for sturdy support. Quickly lower and raise the collapsible sidewalls by hand to allow drive-in entry and exit access for trucks and equipment.
These spill berms offer excellent chemical compatibility with gasoline, oil, water or other hazardous liquids. Manual wall containment berms are a great option for SPCC and EPA container storage regulation 40 CFR compliance.
Affordable yet effective, this portable spill containment unit is useful in many applications from spill containment of large quantities of drums to tanker truck parking pads. They are available in 19 standard sizes with 12 inch high walls to provide generous capacity of 179 up to 7405 gallons. Widths range from 4 to 15 feet, and lengths are between 6 and 66 foot long.
Economy Spill Prevention
Our collapsible wall design is more affordable than other models—like rapid rise or foam wall berms—because its containment area requires manual assembly. However, this type of spill control solution is just as effective at preventing ground or rainwater drain pollution from vehicle or equipment leaks.
This berm style is a good option when machinery and equipment remains in place for extended periods or drive-over vehicle access is not necessary. The economical design allows you to quickly manually lower or erect the sidewalls by rotating the support frame's feet. Both cost-effective and functional, these berms offer secure containment for frac tanks, spill pallets and other equipment for a low investment.
Rugged Materials
The collapsible wall model spill containment berm is purpose-built to withstand heavy duty field applications yet is easy to clean and re-use. Instead of stake walls, this spill containment berm features rugged PVC sidewall assemblies. This design allows you to quickly lower the sidewalls to load equipment or let vehicles drive in and out during daily operations.
The berm fabric is made of strong Copolymer-2000 which is highly rated for secure containment of heavy equipment and vehicles. Because this material offers flexible "give" it is suitable for use on firm or soft ground surfaces such as asphalt, gravel, soil, and sand. Find more information about chemical compatibility in our guide below, under Technical Information.
Using optional Track Belts and Ground Tarps (sold separately) helps protect this collapsible wall model by minimizing wear or punctures from tire abrasion and rough terrain.
Quick Assembly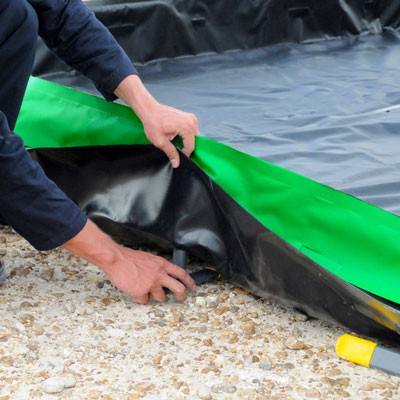 Setting up this containment berm model for your spill control needs is fast and easy. Position the berm anywhere spill prevention is necessary or there is a potential for leaks to occur. Unfold the berm, erect the sidewall support system, and the unit is ready for use. To quickly lower a side wall, simply swivel each of its PVC support frame "feet" by 90 degrees. Once equipment is in place inside the berm, raise the walls again by re-positioning the feet of the PVC assembly system.
After use, empty and sweep the berm so it is clean and dry. Fold and store the unit in a suitable environment so it remains ready for future serviceability.
Spill Containment Berm Set Up Instructions
Remove debris and sharp pieces from the location you plan to use the berm (using an optional Ground tarp or Track Belt can help prevent damage from punctures and tire wear).
Place and unfold the berm in the desired area.
Lift the longer sidewalls to expose the PVC frame legs, then swivel each foot 90 degrees to face into the berm.
After checking the perimeter walls are firmly seated, the unit is ready for use.
Technical Information
Copolymer 2000: 25 oz. / sq. yard. Suitable for operating at temperatures of 160°F maximum and -25°F minimum. PVC frame sidewalls. For more details please see our Containment Berm Chemical Compatibility Guide (PDF).
Compliance Information
CFR 264.175.
Ordering & Shipping
For custom size Spill Containment Berm order or shipping questions, please contact us by email or call toll free (800) 869-9633. We can also help with your spill kit or secondary containment spill control needs including spill decks, containment trays, containment pools, and more.
Note: Our Collapsible Wall Model Containment Berms ship LTL (less than load) so we will email you to confirm shipping costs after we receive your order.