Quick Overview
Portable, heavy duty bridge keeps hoses and more off berm sidewalls
Helps maintain structural integrity & full capacity of spill berms
Protects your containment berm to prevent and reduce damage
Ideal for berm use during fueling operations with tanker trucks
Place inside berm or straddle the sidewalls to ensure secure spill containment
Accommodates and keeps hoses up to 6 1/2" secure
Versatile units made of rugged yet lightweight Polyurea
From $182.97



Product Information
This rugged Hose Stand safeguards the capacity of containment berms during every day operations such as fueling. It acts as a secure bridge for hoses to protect containment berm sidewalls from damage and to prevent loss of liquids when the spill berm is full.
Place these versatile units over and across berm sidewalls, or, within the containment area itself when it is necessary to support and keep hoses/electrical cables off the ground. Hose stands ensure your spill containment berm walls remain intact in an upright position to maintain full capacity.
Made of durable Polyurea, they are compatible with many spill control berms, from large foam wall or collapsible wall models to smaller units like utility trays.
Lightweight Yet Sturdy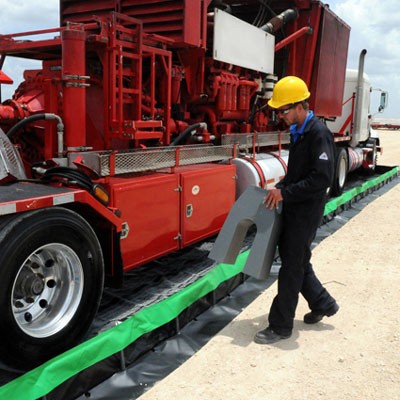 At 5.5lbs, these stands are light enough for easy handling and placement, yet weigh enough to remain upright and securely in location. The base area measures 16.25 inches x 9.25 inches to ensure optimal balance, while the 23.5" height allows ample clearance of berm walls up to 12". The top of unit's U-shape saddle recess easily keeps fuel hoses of up to 6 and a 1/2 inches in place.
After use, these compact stands easily store in safety cabinets alongside other spill kit equipment, ready for future spill response situations. Additional spill containment solutions to have on hand includes drain guards, spill trays, and spill containment pallets.
Heavy Duty Material
Our containment berm hose stands are made of durable, lightweight, and chemical resistant Polyurea. Strong yet flexible, this material can easily handle the rigors of daily fueling operations. Polyurea makes a great support structure for heavy fuel hoses that have the potential to flatten or compromise berm walls. It also provides excellent resistance with many chemicals, such as oil spills and other liquid hydrocarbons as well as water.
Versatile Applications
Hose Stands provide an easy way for hoses, cables and more to traverse spill containment berm perimeter walls without compromising their structural integrity. The stand's central opening is wide enough that it won't interfere with berm walls or their side support systems. The top saddle recess secures individual cables and hoses or multiple ropes/cords that measure up to 6 1/2 inches.
As well as fueling uses, they are ideal for supporting hoses when draining liquids out of wellhead berms, track pans, track berms, or rapid rise wall containment models. The units also elevate and allow wire cables to safely cross berm walls when it is necessary to connect power to equipment inside the berm, like electrical generators. They protect the containment walls of most berm types, except those taller than 12", like containment sumps, hard-top spill pallets and larger tank containment units.
Technical Information
Black polyurea. Weight 5-1/2 lbs.
Compliance Information
Spill control accessories can help meet CFR 264.175.
Ordering & Shipping
Contact us by email or call toll free (800) 869-9633 for any shipping or ordering questions. We're also happy to help with any other spill containment product needs you have, including IBC spill pallets, dewatering bags, spill decks, drip diverters and more.