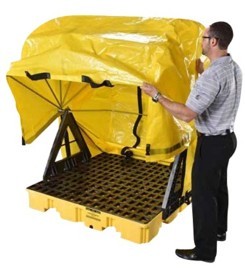 Protect up to four 55-gallon drums from rain, snow and wind with our new rotary style soft top covered spill containment pallet for outside storage. This soft top drum storage is the easiest to lift open and shut on the market. No need to remove the drum pumps while storing them in this soft top drum storage unit due to the height of the protective cover.
The cover of this soft top drum storage fits on a low-profile pallet (7 3/4 inches high) and is very easy to set up. An optional ramp is available to easily move your 55 gallon drums on and off the pallet. This is the most economical soft top covered spill containment pallet on the market.
It is pallet is 100% HDPE construction. It resists UV rays, corrosion, weathering, and is compatible with most aggressive chemicals. Bright yellow color. Patented support grating is removable for easy cleaning of the 60-gallon sump. This soft top drum storage has a load capacity of 10000 lbs. Optional ramp Model 1689 works with this covered spill containment pallet.
The soft top is a PVC fabric that fits over a galvanized steel frame. The durable soft top is a flexible, highly visible bright yellow color. You can access the drums from either the front or back. It ships unassembled to save on shipping costs. It is very easy to assemble with complete instructions included. VIEW SETUP HERE.
View additional product demo HERE
Dimensions: Length 74 inches. Width 60.5 inches. Height 68 inches. Pallet 7.75 inches high. Capacity 4 drums. Color Yellow. Drain Yes. Forklift Yes without drums on pallet. Load Capacity 10000 lbs.
Quick Overview
Technical Info
Polyethylene construction
Patented removable poly grating
Dimensions, sump capacity, load capacity and weights noted above
Optional poly pallet ramp for spill pallet.
High Density Polyethylene Chemical Resistance Guide
Please contact us for a freight quote at sales@absorbentsonline.com
Compliance Info
40 CFR 264.175
See Federal Regulatory Compliance Summaries here.