Prevent Spills from Entering Drains with Seals and Stoppers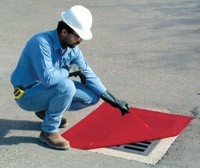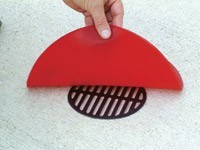 The Drain Cover Seal & Spill Stopper and Blocker II is a NEW Reversible Product. The pad is constructed of a Solid Tacky Urethane Product with No Fillers that de livers a Tough, Durable Seal using either side. Due to its lighter weight, it can be used quickly for emergency chemical spills.
Light Weight and Easy-to-Use the Drain Cover Seal Protector II is made of a solid tough polyurethane. It requires no reinforced fillers making it light weight and easy to handle.
These storm drain blockers are reversible since the Drain Cover Seal Protector II is tacky on both sides, either side can be used to form a tight seal to block out liquids.
Reusable
After using, simply wash the storm drain blocker, replace the plastic film, roll it on the tube and return the tube to the container. The Drain Cover Protector II is tough enough to stand up to repeated use.
Chemically Resistant
The polyurethane Drain Cover Seal Protector II is compatible for use with a wider range of chemicals and substances than rubbers and plastics. It is often more suitable when coming into contact with certain solvents, oils and chemicals. Plus, it's environmentally safe.
Large Stock
The Drain Cover Seal Protector II is available in 18, 24, 36, 42 and 48 inch sizes to meet a wide variety of job site requirements. Round sizes available in 12" and 20" diameters.
These storm drain blockers can be custom made to your specifications at the manufacturers U.S. plant. For best results, order your drain cover 6" larger than the drain you are going to cover.
On Sale Now!