Quick Overview
Containment walls stay flat until liquid triggers the rapid rise foam ring floats
An ideal drive-over spill control berm for easy loading/unloading of vehicles
Unroll-and-go solution protects in case of a spill during day-to-day operations
Practical secondary containment for IBC, waste containers, tanker trucks and more
Suitable for indoor use in warehouses, storage facilities and outdoor work sites
Built-in handles help easy positioning for your spill prevention needs
Heavy-duty Copolymer-2000 or PVC material construction
Made in the United States – available in custom and standard sizes
From $606.97



Product Information
These Self-Rising Wall Containment Berms offer convenience and security as a great solution to help comply with EPA and SPCC spill containment regulations. The 12" high berm sidewalls remain flat unless their rapid rise feature is activated by a liquid spill, without manual inflation or assembly. This makes them ideal for secondary containment when loading equipment or using vehicles because there is no need to set up or dismantle the end walls – simply drive straight over.
The heavy duty and chemical resistant PVC or Copolymer 2000 materials are suitable for containment of many types of liquid spills including hydrocarbons and water. When not in use, the spill containment berms quickly fold down and pack away to take up minimal storage space. Our containment berms are available in standard or custom sizes with small to large footprints up to 72' long. Use them for control of potential chemical spills from small vehicles or equipment up to large frac tanks.
Place these convenient secondary containment berms anywhere you need in the field: from parking lot safety where vehicle leaks may occur, to temporary solutions for drum containment, safety cans, IBC, or other large equipment.
No set-up necessary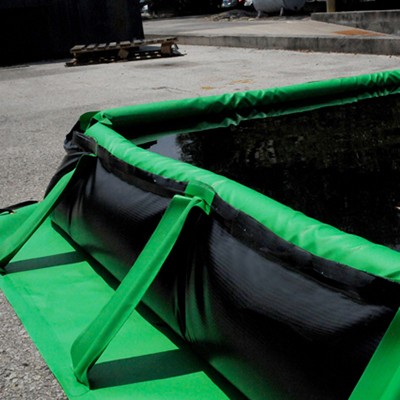 Our no-wall spill containment berms do not require any assembly – just unpack and lay them out wherever potential spill hazards exist. In the case of a spill there is no need for additional parts like bumper posts or brackets. Foam rings built into the top of the rapid rise walls automatically float in response to liquids, providing safe and secure spill containment. Rigid struts are incorporated into the outer perimeter to provide additional support to the collapsible walls, even when the berm is full.
This type of spill containment solution is ideal for locations where trucks or other mobile equipment is frequently in operation. You are not required to dismantle the end walls to accommodate vehicles because the sides lay completely flat – this avoids disruptions to normal operations yet provides effective security when spill response is necessary. Its true low profile design eliminates tripping hazards, speed bumps or other interference to traffic/machinery in comparison to some other models of foam wall berms. The units roll and fold up to a compact size so take up little space in storage cabinets alongside other spill kit equipment.
Durable Materials – Excellent Chemical Compatibility
Chemical resistant and heavy-duty Copolymer-2000 or PVC materials ensure a rugged spill berm construction. Both of these options provide excellent impact resistance and chemical compatibility with oils, gasoline, water and more. PVC is generally a slightly less expensive and lighter weight berm option than Copolymer-2000. Refer to our guide below under Technical Information for additional details and a comparison of the two different materials' compatibility.
An optional Ground Mat or Track Belt can help protect your investment and the lifespan of your containment solution. These assist in preventing damage due to punctures and wear from rough ground, tire abrasion, or when using wheel chocks with stationary vehicles.
Many Size Options
Our secondary spill containment solutions come in more than 35 standard sizes which makes them versatile for a variety of indoor or outdoor uses. Spill berms start at widths of four feet up to 15' feet wide, from six feet to 72' in length. The walls stand at 12 inches high to offer a generous liquid containment from 179 up to 8078 gallon capacities. All sizes include built-in handles to help quickly transport and position the berms wherever they are needed.
The various sizes offer versatile uses and protection against ground contamination to help you comply with EPA and SPCC requirements. Ensure spill prevention during fueling, discharging, maintenance and cleaning of tanker trucks, vehicles or other heavy equipment. Consider combining a smaller footprint berm with spill decks or spill containment trays in areas with limited space where vehicles regularly drive or move equipment. Our largest drive over containment berms provide ample gallon capacities which make them an excellent choice as an outdoor truck wash station.
Technical Information
Copolymer 2000: 25 oz. / sq. yard. Max. 160°F, Min. -25°F.
PVC: 22 oz. / sq. yard. Max. 150°F, Min. -20°F
Please download and read our Containment Berm Chemical Compatibility Guide (PDF) for more information about the different materials.
Compliance Information
CFR 264.175.
Ordering & Shipping
Add a Self-Rising Drive Over Containment Berm to your shopping cart today! Please contact us by email or call toll free (800) 869-9633 for questions about shipping, standard or custom size orders. These spill berms are made in and ship from the United States.
Note: These Containment Berms must ship LTL (less than load) so we will email you to confirm exact shipping costs upon receipt of your order.