Quick Overview
Fast wicking pad and roll sorbents for oil clean up and containment
Absorbs petroleum (all hydocarbons)
Economically priced oil spill pads
Oil absorbent pads ideal for use on both land and water
Repels water and only soaks up oil-based solutions
Floats on water making it extremely effective for marine oil spills
Bright white color means absorbed oils are easily visible
Durable material that doesn't come apart even when fully saturated
Easy to use rolls and pads work in a variety of applications
Oil spill pads are available in a various absorbency sizes and shapes
Excellent for any oil absorbent spill kit application
Helps you comply with OSHA requirements
From $36.99



Product Information
Our economy oil spill clean up absorbent pads and rolls are efficient and multi-purpose for small or larger spills. These cost effective sorbents quickly soak up petroleum-based fluids including solvents, solvent based paints, vegetable oils, and many other non-soluble chemicals.
Our oil absorbent pads are made of durable polypropylene with hydrophobic properties. The fast-wicking fibers repel water-based fluids and only absorb oil-based liquids.
These absorbent mats are suitable for both land or water spill kits. They float even when fully saturated and are a great product for absorbing sheen on water or small marine oil spills. These oil spill pads are also suitable as universal oil sorbents in automotive workshops, large warehouses, and more.
Highly Absorbent & Durable Material
Our oil sorbent rolls and pads are made of melt-blown polypropylene and have quick-wicking absorption for effective oil response. These absorbent mats work equally well on land or water.
The absorbent material features a single layer of hydrophobic polypropylene. Its unique technology confines and absorbs oil-based liquids but repels water-based fluids.
This polypropylene mat fabric is highly durable and effective for use on liquid spills. It won't come apart and continues to float even when it is completely saturated. The bright white color remains easily visible in water and also allows you to see when it is full with liquid.
Cost-Effective & Fast Absorbing
The durable polypropylene material is both resilient and long lasting. Because these absorbent mats repel water and only soak up oil, they work faster and last longer to offer you cost-effective spill containment.
The bright white color lets you see when oil and liquids are absorbed, so you know when the mat is full and ready for disposal. This means you can clean spills quickly but use less product to save money.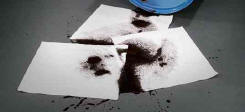 Versatile Oil Clean Up Applications
These economy roll and pad sorbents are suitable for use in any areas where oil leaks, spills, or ruptures may occur.
Our oil spill absorbents are ideal for automotive and marine workshops, warehouses, and facilities that use, store, or dispose of oils or other liquids. They are an essential product for small or large business operations that require quick chemical absorbents for health and safety compliance.
The pad and roll mats are useful to absorb motor oil leaks or any small spill under or near machinery. These efficient industrial absorbents can help you maintain a clean and safe workplace. Use them to confine crude oil leaks or drips, minimize slip hazards, and help maintain dry conditions for all workplace floors.
Along with absorbent pillows, our oil absorbent pads and rolls are a core product for any spill response kit. They offer a safe and fast tool to contain and remedy oil discharges or spills. Store them in your workplace safety cabinets for peace of mind. Other specialized products made specifically for oil cleanup are bilge booms, containment booms, pom poms and oil only socks.
Choose From Various Shapes, Sizes, & Absorbency
The economy oil absorbent rolls are available in two sizes of heavy-weight mat and absorb up to 63.4 gallons per unit. The absorbent rolls provide an excellent option for covering large areas.
Our economy oil absorbent pads come in light, medium, or heavy-weight rectangle mats. The extra large pad is available in heavy-weight only. Polypropylene fibers create a lofty mat that absorbs up to 42.8 oz per 15" x 19" pad. Use one or more pads for fast and efficient containment of spills.
These oil absorbent pads are not perforated nor are they dimpled. Please see our high performance absorbent pads for perforated and dimpled pads and rolls.
A Must-Have For Marinas & Other Water Sites
Because they float and also repel water, these mats make a practical sorbent for spills in marine environments.
The quick-wick fibers offer the best performance for containing oil spills on water. They are a great product for absorbing oil sheen on waterways and will remain buoyant even when fully saturated. The bright white color is also easily visible on water.
Team these pads and rolls with other products like our oil absorbent booms or absorbent socks for effective spill containment in water ways.
Technical, Handling, & Storage Information
100% polypropylene composition. These absorbent mat and roll products do not contain any hazardous ingredients or materials in normal use. Store in a cool, dry place to minimize dust accumulation. Avoid exposure to open flame or elevated temperatures for long periods of time. Sorbents do not make oil and liquid spills less hazardous. Always take appropriate measures as if you were handling the liquid itself. Safely dispose of used materials in accordance with Federal, State and local regulations.
NEW LOWER PRICES, NEW SIZE PADS!