Oil Absorbent Pads & Roll
Description: Our white oil absorbent pads and rolls are bonded ultrasonically with one layer of lint free spunbond fabric and one layer of meltblown polypropylene. Dimpled pattern speeds wicking to quickly soaks up oil. Retains it shape even when completely saturated. Perforated so you save money by using only what you need. Can be wrung out and reused.
Uses: Use on land and water when you have oil to soak up. Absorbs hydrocarbons only. Repels water. Floats on water. Absorbs all hydrocarbons such as oil, gasoline, fuel oil, diesel and lubricating oils. Additional product information on order page.
Oil Absorbent Pads - High Performance - Dimpled - Bonded - White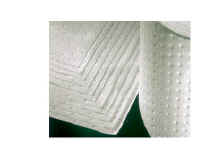 Oil absorbent, dimpled, bonded oil absorbent pads and rolls are appropriate for use in traffic areas and low lint applications.
Repels water based fluids and absorbs oil based fluids. Suitable for industrial and environmental applications for quick absorption of oil.
Oil Absorbent Pads are one of our best sellers.
Dimpled
Low linting
Bonded Absorbent Pads for Oil Spills
Heavy weight
Strong oil soak pads
ON SALE! Limited Time Offer! New Size Pads!