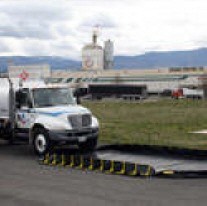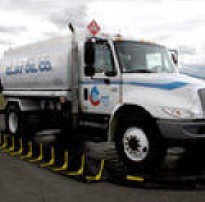 Our Drive Over & Through Flex Wall Secondary Spill Containment Berm allows for hands free drive in and out access without the risk of tearing the corners. In the event of a spill, the walls will rise automatically as the berm begins to fill up. Made with a heavy duty fabric that is appropriate for water, oils and most chemicals.
This drive through secondary spill containment berm is made with flexible side walls and takes only minutes to setup for very fast deployment. Easy cleaning and storage allows for repeated use. Includes a patch kit at no additional cost. The compact design takes very little space for storage.
Please contact Sales@AbsorbentsOnline.com for a custom quote on a size that best fits your needs.
Available options include ground tarps and track mats. Available is various colors including black, desert tan and OD green. Pricing below does not include yellow track mat, please contact sales for accessory pricing. Meets US regulations for spill containment.
Hand-Free Drive In and Drive Out
End walls automatically rise when filled with fluid.
Setup takes minutes.
Optional track mats prevent damage to berm.
On Sale! Limited Time!
Please contact Sales@Absorbentsonline.com for a price on custom sizes.