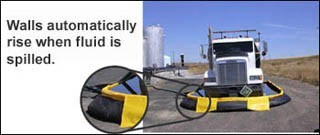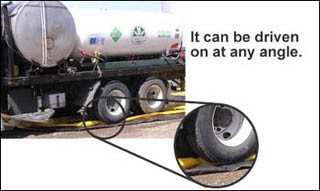 Our Throw N' Go Secondary Spill Containment Berm is the fastest and easiest spill containment berm on the market. No assembly needed. This spill berm containment dike simply needs to be unfolded and it is ready for use.
Sidewall construction allows the walls to remain flat so they can be entered or exited from any side! The walls will rise automatically when filled with fluid. There are no side walls to manually put up or hinges to break.
Available options for this spill containment guard include ground tarps and track mats. See specifications for this very durable material here.
This secondary spill containment berm is very sturdy and can easily be deployed from location to location throughout the day.
Please contact by email or (800) 869-9633 for a custom quote on a size that best fits your needs. Available options include ground tarps and track mats.
Ground tarps are usually purchased if the berm is going to be on dirt or gravel. Track mats are purchased if equipment is going to be driven in and out frequently. Pricing below does not include yellow track mat shown in pictures.
Please contact sales for accessory pricing.
Simply Unfold, Drive In Drive Out, Fold Up
Walls automatically rise when filled with fluid
No assembly is required.
Walls lay flat.
Setup takes less than 1 minute.
They can be driven on at any angle.
Optional track mats prevent damage to berm.
On Sale! Limited Time! Custom Sizes are Available.
Please email for a pricing on custom sizes.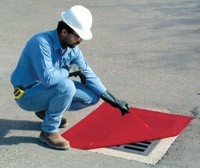 Click here for our Drain Cover Seals.