Big Spill Kit for Big Spills!
Each 95 Gallon Drum Overpack Spill Kit comes complete with everything you need to clean-up spill as large as 84 gallons. Safety yellow colored drum has a screw top lid for easy access to the contents.
The kit is made of tough durable plastic and is highly visible.
Our 95 Gallon Drum Overpack Spill Kit assists you in complying with HAZWOPER Regulation 29 CFR 1910.120. The 95 Gallon Overpack Spill kit is available for General Purpose, Oil-Only, and Chemical Spills.
Contents of 95 Gallon Drum Spill Kit
Absorbs approximately up to 84 gallons/kit
150 pads
12 Socks (3"x4')
6 Socks (3"x8')
10 pillows
1 Goggles
2 Pair Nitrile Gloves
10 disposal bag
Instruction Sheet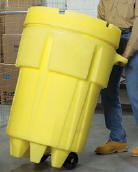 NOW 95 Gallon OverPack Spill Kit on Wheels Priced below.
On Sale! Limited Time Offer