[sc:date]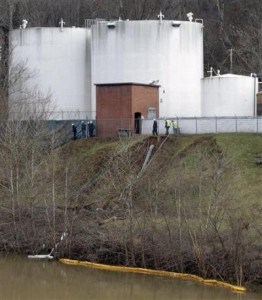 Last week, we reported on a massive chemical spill in the Elk River which left some 300,000 West Virginia residents without water. Originally, state officials announced that approximately 5,000 gallons of the coal-cleaning chemical 4-methylcyclohexane methanol had leaked into the nearby Elk River, tainting the municipal tap water for nine surrounding counties. Now, however, they believe it was a slightly larger spill with roughly 7,5000 gallons of the potentially hazardous chemical.
What Caused The Spill?
A spill of this magnitude typically doesn't happen for no reason, which is why the Environmental Protection Agency (EPA) immediately launched an investigation to determine the cause. Investigators determined the spill was caused from a porous containment wall which did not adequately contain the 4-methylcyclohexane methanol chemical.
Freedom Industries, the company responsible for the spill, stored the 4-methylcyclohexane methanol in a 48,000-gallon above-ground tank at their Charleston facility. Unfortunately, this tank lacked a proper containment wall. As the chemical began to leak, it seeped through the containment wall where it traveled down a hill before ending up in the Elk River.
Freedom Industries Cited For Violations
In the wake of the massive Elk River chemical spill, Freedom Industries began moving their remaining 4-methylcyclohexane methanol to a secondary site about 10 miles away from the original in Nitro. To ensure this type of disaster does not happen again, officials inspected the company's secondary site for safety issues. They found a total of five violations at the secondary site in Nitro, the most troublesome being holes in the containment wall. This is exactly what caused the original spill, so it only makes sense for the inspectors to cite them for a violation of their secondary site.
Freedom Industries was then given the choice to either build a functional containment wall or move the 4-methylcyclohexane methanol chemicals out of their Nitro facility. They choose to move the chemicals to yet another location until the containment wall is constructed.
So, what type of penalties does Freedom Industries face of theses safety violations? There's still no official word on what — if any — penalties will be handed down. Freedom Industries has 20 days to provide a written response detailing changes made to their site.
"My understanding, DEP has checked that facility and there is no issue with the storage there," said Jimmy Gianato, director of Homeland Security and Emergency Management. If this statement is correct, then perhaps Freedom Industries has already taken corrective measures to fix their safety violations.