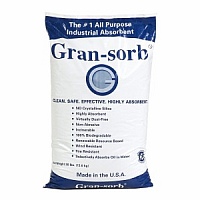 When you have a non-aggressive fluid spill, do you know which floor dry absorbent will take care of the problem? The answer depends on what was spilled — and, of course, how much.
Familiarize yourself with the different kinds of granular sorbents in order to ensure that when you have a non-aggressive fluid spill, you're prepared to handle it quickly and efficiently. Here are some floor dry absorbent options for granular absorbents, depending on which fluids you might be dealing with:
For small spills and routine maintenance, Super Sorbent is your best bet. This granular sorbent comes in small, easy-to-use shakers that can be distributed throughout your facility to make spill response quick and painless. This sorbent will work on oils, coolants, solvents, and water.
Dealing with a larger spill? Consider using Gran-sorb. This sorbent has a 1:1 absorbency rate, so 15 pounds of sorbent will absorb 15 pounds — which is equivalent to approximately 2 gallons — of oil. Besides being great for dealing with oil spills, Gran-sorb can also handle lubricants and most other non-aggressive liquids.
Are you only concerned about oil spills? For this specific use, the Peat Moss Absorbent floor dry is a good choice. This sorbent is an all-natural, biodegradable option specifically for oil spills and can be incinerated after use.
If you're looking for a heavy-duty absorbent, look no further than Corn Cob Absorbent, which can hold an astounding four times its weight in fluids! This biodegradable floor dry product is made from ground corn cobs and is appropriate for water, solvents, oils, and coolants.
Like any absorbent product, different floor dry absorbents are designed to meet different needs. It is always wise to have a variety on hand so you can be prepared for any kind of spill!

Want to learn more about absorbent pads and pillows? AbsorbentsOnline can help. Contact Travis Zdrazil at travis@absorbentsonline.com or (800) 869-9633.