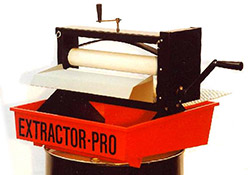 You just spilled a container of fluid in your workplace. You've followed safety procedures, and cleaned up the mess with a sorbent mat, towel, or rag, but it's impossible to recover the fluid you just wasted … right?
No matter how careful you are, spills are bound to happen. Besides being dangerous, spills also waste valuable resources. But having wringers on hand can help you recover much of what was spilled — and save your business money, too.
Did you know that wringers for absorbents can recover up to 90% of absorbed fluids from most sorbent mats, towels, or rags? When used with reusable absorbent pads, a wringer can greatly reduce spill costs and chemical fluid waste for your facility. According to the U.S. Environmental Protection Agency (EPA), using a wringer could save a company 51 to 75% a year, mainly on sorbent pad disposal costs. Furthermore, a wringer can pay for itself in just 2.8 to 5 weeks.
AbsorbentsOnline offers three different wringer models to suit your business's needs. Each of these hand wringers offers a variety of benefits.
Economy Model Wringer — The all-steel frame is rust-proof, and the bearings never need to be lubricated. An adjustable screw in the center balances pressure over the length of the roller.
Standard Model Wringer — This model has dual gear-driven, 12-inch-wide chemical-resistant rollers and a built-in, anti-spill valve. You can mount this wringer to a closed-head 55 gallon drum.
Pro Model Wringer — This heavy-duty wringer has 19-inch rollers that can take 18-inch absorbent pads with no folding, and up to four 3-inch socks. A hands-free electric motor drive is optionally available for this model. AbsorbentsOnline can also provide the wringer with custom extractor widths and voltages for your specialized needs.
So the next time you spill fluid in your facility, don't fret! Instead, use a wringer — which is good for the environment and your wallet.
AbsorbentsOnline is here to help. Feel free to contact us by email or call toll free at (800) 869-9633.