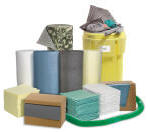 Your online source for absorbents and spill control products.
Our top quality products include pads, mats, socks, booms, spill kits, spill containment berms, oil spill containment booms, storm water products, spill pallets, marine absorbents, safety cabinets, poly drums and much more.
Keep your workplace safe and clean.
Comply with government regulations.
Protect your environment.
Safe and Secure Online Ordering.
Thousands of satisfied customers.
In business since 1985.
Shipping within 24 hours on in-stock items.
You save on shipping - Warehouses throughout U.S.
Products are Made in USA
We are here to help. Call us toll free (800) 869-9633 or email us.