Spills happen. They happen at home, they happen at work, and they even happen at restaurants. No matter where or when spills happen.
When they do, you want to know how to clean up spills properly. And quickly, without having to spend too much time or effort. Which is what makes spill kits such a great solution!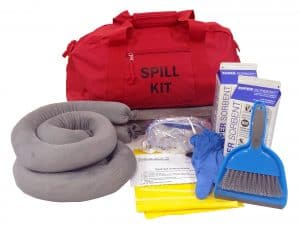 Basically, like the name suggests, a spill kit is a collection of items that you can use for spill clean up. Though they are mainly used in industrial workplaces, you can fashion your own spill kit designed for home use.
If you've ever wondered, "What is a spill kit?", find out everything that you need to know below!
How Do I Choose a Spill Kit?
There are several types of spill kits out there, from basic ones to those that include specialty equipment.
If you don't already have a spill kit, here are some things you should consider when selecting one:
Cleaning supplies: You will need cleaning supplies such as sponges, rags, and other materials like disposal bags. These are the basics that you need in order to clean up any type of spill.

Specialty tools: Some spill kits come with specialty tools that allow you to clean up more difficult spills. For example, if you have spilled something on your carpet, you may not be able to get it all off using just a regular sponge. A specialized tool or solvent, like carpet cleaner, might help you remove a stain.

Size: The size of your spill kit depends on what kind of spill you are dealing with. If you have a small spill, then you probably won't need a large kit. However, for spills involving a multi-gallon container or drum, you will want to buy a larger kit. Kit size will also depend on the setting. If you are keeping a kit for home use, you will likely only require a basic one.
After all, you may not be dealing with the dangerous spills that are often found in industrial environments.
However, if you plan on using it in a workplace setting, a more substantial kit will be required. Especially if the spill involves corrosive or hazardous materials, including acid spills. In which case, Occupational Safety and Health Administration (OSHA) regulations may apply.
What Do Spill Kits Contain?
The contents of a spill kit vary depending on the brand, model, and intended use. But most kits contain the following items for fast, safe, and efficient spill response:
PPE
PPE stands for personal protective equipment. This includes gloves, safety goggles, aprons, shoe covers, and more.
All of these items are used to protect yourself from harmful chemicals and substances.
You should cover your skin and clothes as much as possible to prevent them from being covered in hazardous chemicals or whatever spills you are cleaning.
Cleaning Supplies
These are the basic supplies that you need to clean up any type or size of spillage.
You will find a variety of different kinds of cleaning supplies. Including rags made from absorbent materials that can be used to remove liquids. As well as things like a dustpan and brush for granular spills, or disposal bags to safely contain soiled materials.
Signs
These are to warn people of the spillage, signs should be utilized.
Signs can be placed near the area where the spill occurred so that anyone who comes into contact with the spill can see it. This can be important to help prevent slip and falls in the workplace.
A Bin
As you likely already know, a bin is a container that holds objects for waste disposal. In many cases, a wheelie bin is often utilized which can also double as storage of your spill kit contents.
These bins are usually made of plastic or metal and can hold anything from garbage to liquids.
Most bins are designed to be portable so that you can take them wherever you go.
This means that you can easily transport the spill kit and all of its contents to the clean up site.
Absorbent Socks
Though they are called socks, these are not items that you wear. Instead, absorbent socks are used for spill control.
They are similar to bandages but are filled with absorbent material. These sorbents are typically used to wrap around and contain fluids spills or leaks.
Absorbent Pads
Absorbent pads are another item included in many spill kits. Use them to to soak up liquid spills and prevent them from spreading further.
The pads are generally made of strong, tear-proof materials that are capable of quickly absorbing fluids.
When Are Spill Kits Used?
Spill kits are commonly used when there is a spill that needs to be cleaned up quickly. When this happens, you must act fast.
Otherwise, you could end up causing even more damage than you originally intended.
They are mostly used in settings where potentially dangerous spills can occur. For example, they may be used in a lab or factory.
What Types Of Spill Kits Are There?
There are lots of different types of spill kits. They are used in different situations depending on what substance has been spilled. It is important to be aware of the type of liquid spill you are dealing with. Sometimes it is even necessary to color-code your spill clean-up
Here are some of the main varieties:
Universal Spill Kits
These general purpose spill kits are ideal for cleaning up most types of liquids. Including water-base fluids as well as spill containment of hydrocarbons like gasoline.
Contents of these emergency spill kits are typically grey in color. Because they are general-purpose, they can be utilized for a wide array of stains.
Chemical Spill Kits
As you may have guessed, chemical spill kits are used for cleaning up more hazardous chemicals. Which can include acids, solvents, coolants, and more. There are even specialty kits just for cleaning up mercury spills.
Sorbents in chemical spill kits are typically yellow. Or, purple the case of acid spills. Kits for acid spills usually contain neutralizing granular substances, such as sodium bicarbonate, that can counteract chemicals. And are designed to contain and neutralize the substances that were spilled, like battery acid.
Oil Spill Kits
This variety of spill kit contains items designed to clean up oil, fuel, and other hydrocarbons. It contains special tools and other items that help to ensure that the spill does not spread.
Contents of oil spill kits are normally white. Because many of the items float on water, they are ideal for use in and around marinas and boats. The PPE in these kits will need to be oil-resistant.
Blood Spill Kits/ Body Fluid Spill Kits
Lastly, biohazard spill kits are for cleaning up various body fluid contaminates. They will contain items to remove any traces of hazardous waste, like blood and urine.
These spill response kits are most commonly used in medical facilities.
Body fluid spill kits do require a certain level of training before being used. You must be careful when handling these types of biohazard fluids. One way to protect yourself is through PPE like nitrile gloves, lab coat, face mask or respirator.
Frequently Asked Questions
What Is The Difference Between A Spill Kit And A First Aid Kit?
A spill kit is designed to handle spills, from small to large in size. Which may include emergency response situations to hazmat chemical spills in the workplace.
First aid kits are designed to treat injuries and illnesses. For example, if you have cut yourself, a first aid kit can be used to cover the wound.
Though they are both important workplace kits, they perform completely different functions.
Where Are Spill Kits Found?
This will depend on the environment. But, if it is your job to clean spills, you should be informed where the kit is kept. If there is a cleaning supply room, or materials storage area, it could be found there.
Alternatively, these kits are sometimes placed near where spills are most likely to occur. For example, along a route that is commonly used to transport chemicals. Or, a compact fleet spill kit may be stored inside the vehicle or truck cab itself.
Final Thoughts
In conclusion, spill kits are very useful. They are great at containing spills and keeping them under control.
If you ever find yourself in a situation where you need to deal with a spill, then you should definitely consider getting one.
You never know when it might come in handy!
If you work in a factory or another industrial building, it is important to know where the spill clean up kit is kept so that you can stop spills before they can worsen.