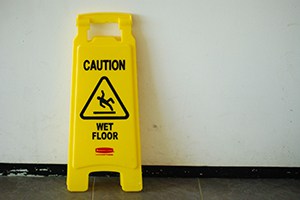 Did you know that slip-and-fall accidents are one of the most common types of employee accidents in the workplace?
According to the National Floor Safety Institute, slip and falls account for over eight million hospital emergency room visits each year, making them the leading cause of visits. They also represent a primary cause of lost days from work.
Therefore, it's important for companies to take preventive measures to reduce the chance of slip-and-fall accidents. Rather than waiting until an accident occurs, make it a point to address the situation and prevent slip-and-falls now by following these tips.
Understanding Slips, Trips, and Falls
Slips occur where there is too little friction or traction, for example between your footwear and a walking surface. Trips happen when your foot strikes, hits, or collides with an object such as a loose paving stone. Either scenario can cause you to lose balance and thus, fall.
There are three physical factors behind every slip, trip, or fall:
friction: being the surface resistance between two objects.
momentum: the action of movement, which is affected by speed and mass
gravity: the force that attracts an object to the earth.
The Unseen Dangers of Slip-And-Fall Accidents In The Workplace
The implications of slip-and-fall accidents are multifaceted and extend far beyond a mere momentary mishap. These unseen dangers range from employee health and safety risks to financial burdens for the company.
Such accidents can lead to serious injury or even death, jeopardizing an employee's life and livelihood.
The injured worker often faces prolonged absences from work to recover, creating disruptions in productivity and potentially affecting the morale of the entire workforce.
From a financial perspective, the costs incurred by the company can be significant. Medical expenses, increased insurance premiums, administrative burdens, employee replacement, and resolving the accident's root cause can be substantial.
Neglecting to address these hazards leaves companies vulnerable to legal actions, and the ensuing legal battles can further strain the organization's resources.
Ultimately, employee morale takes a hit as they perceive their safety concerns being overlooked, impacting overall productivity and employee satisfaction.
Common Causes of Slip-and-Fall Accidents in the Workplace
Slip-and-fall accidents can happen under various circumstances in the workplace. Ranging from wet floors due to adverse weather conditions to tripping hazards from cluttered work areas.
Ground-Level vs Elevated Falls
Slip-and-fall accidents in the workplace can generally be categorized into two types:
Ground-level falls are more common but relatively less severe, occurring when an employee slips and falls on level terrain.
Elevated falls, while less frequent, are substantially more dangerous as they involve a worker falling from an elevated position. Even just a few feet of elevation can dramatically amplify the danger and severity of such falls.
Employers and safety personnel must be vigilant during safety inspections, identifying and addressing potential hazards in both ground-level and elevated areas.
Common slip hazards at work
oily or wet floors
loose, unanchored rugs or mats
Common workplace trip causes
Unsecured cables
Lower cabinet drawers left open
Uneven walking surfaces, such as steps or thresholds
Slip-And-Fall Risk Analysis and Follow-up
To tackle the issue of slip-and-fall accidents effectively, employers must conduct a thorough risk analysis of their workplace. Even if you know your workplace like the back of your hand, you still need to identify and prioritize areas of risk.
Adequate lighting is crucial as it illuminates the workspace, making slippery surfaces easier to spot. Be sure to thoroughly inspect floors looking for signs of spilled oil, battery acid, gasoline, or other chemicals. Good housekeeping practices go a long way — if you see a spill, clean it up immediately.
For example, if oil constantly leaks in forklift parking areas, lay out some absorbent mats to help control the spill. Installing non-slip stair treads is another great option to improve foot traffic safety. You can also place signs to inform employees about the dangers of slip-and-fall accidents. There are just a few ways companies can reduce the chance of fall accidents in the workplace.
Prioritizing Safety and Seeking Expert Advice
In conclusion, prioritizing slip-and-fall accident prevention in the workplace is vital for safeguarding employee well-being, preserving company resources, and promoting a positive work environment. Employers must be proactive in conducting risk assessments, implementing practical solutions, and fostering a culture of safety awareness.

For personalized advice on slip-and-fall prevention products for your company, reach out to Travis Zdrazil at travis@absorbentsonline.com or (800) 869-9633. Don't wait until an accident occurs—take action now to protect your employees and your business.
This is a revision to a blog post with an original publication date of October 9, 2013.