Also known as aqua fortis, nitric acid is a highly corrosive acid and potent oxidizing agent. It's widely used in various industries, including the production of fertilizers, dyes, and explosives.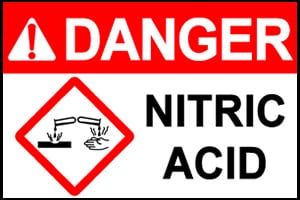 However, due to its dangerously corrosive characteristics and toxic fumes, nitric acid spills create a serious hazard. As evidenced in February this year, when a tanker truck nitric acid spill in Arizona closed an interstate highway.
Therefore, if you own or manage a company that handles any form of nitric acid, you must have a plan in place for safely cleaning up a spill. Along with recognizing the potential hazards of nitric acid and its proper storage and handling procedures. By understanding the best practices for working with nitric acid, you can help ensure the safety of yourself and those around you.
So, to learn more about the dangers of a nitric acid spill and how to safely clean them, keep reading.
Understanding Nitric Acid and Its Hazards
According to the CDC, Nitric acid (HNO₃) is a colorless liquid with yellow or red fumes and an acrid odor. Due to its dangerously corrosive characteristics, combined with toxic fumes, nitric acid spills create a serious hazard to nearby workers.
It is a strong oxidizer, which means it can react violently when in contact with other substances, increasing the risk of fire or explosion. Furthermore, nitric acid can release toxic fumes, primarily nitrogen dioxide (NO2), when it comes into contact with organic matter or is heated. Inhalation of these fumes can lead to severe respiratory distress and other health complications.
A nitric acid chemical spill can result in severe burns, respiratory problems, and even death. As a result, it's crucial for anyone who works with nitric acid to understand the risks and safety precautions associated with this chemical.
Permissible Exposure Limits in the Workplace
Let's look at the permissible exposure limits because this is a topic often avoided or misunderstood among companies and business owners.
The Occupational Safety and Health Administration (OSHA) currently states that the permissible exposure for nitric acid is 2 parts per million parts of air (ppm) over the course of eight hours.
Companies can also refer to the NIOSH report for more information on permissible exposure limits of nitric oxide.
Dangers of Nitric Oxide Exposure
Nitric acid gas and fumes may cause eye, throat, respiratory, and skin irritation. Prolonged exposure to high levels of nitric acid can lead to severe eye burning and even blindness.
Exposure levels of nitric acid are oftentimes gauged by viewing the employee's skin; minor exposure may have minimal impact on the skin, but severe exposure can result in significant burns.
Emergency first aid procedures for nitric acid contact with the skin or eyes is using an eyewash or safety shower station to flush the affected area. If nitric acid mist or vapor is inhaled, immediately move to another area for fresh air and seek medical assistance.
Cleaning Up a Nitric Acid Spill
The first step in a nitric acid spill cleanup begins with the right personal protection equipment (PPE). As previously mentioned, both the fumes and direct exposure to liquid nitric oxide are hazardous to humans. Therefore, workers should gear up in a pair of industrial-grade safety glasses, gloves, a lab apron, and a respirator to protect themselves. Once wearing the appropriate PPE, a worker can begin to clean up the spill.
Several solutions are available for cleaning up a nitric acid spill, but using an acid absorbent is generally the best approach. For instance, using a specialty acid neutralizer absorbent powder or pillow. Once the acid is fully soaked up and neutralized, the soiled materials should be safely disposed of in accordance with manufacturer instructions and federal/state regulations.
Warning: combining water with a nitric oxide spill may only make it worse. Water not only spreads the acid, but it also reacts to it. The bottom line is that you should never attempt to clean up a nitric oxide spill using water.
Proper Handling and Storage of Nitric Acid
Nitric acid should always be housed in approved containers and storage cabinets. That's because it is highly corrosive in the presence of aluminum, copper, and oxides, and it can attack all base metals.
Storage containers must be kept dry because nitric acid can react with water or steam, producing heat and toxic, corrosive, and flammable vapors. To segregate nitric acid from other acids in your acids cabinet, use secondary containers.
Ensure proper ventilation systems are in place to prevent the accumulation of toxic fumes.
Conclusion
The importance of being prepared for a nitric acid chemical spill cannot be overstated. Comprehensive training, adherence to safety regulations, and the availability of suitable spill response equipment and materials are crucial for preventing accidents, minimizing injuries, and protecting the environment.
By implementing robust safety measures and staying informed about the risks associated with nitric acid, companies can create a safer working environment and ensure the well-being of their employees. Remember, prevention and preparedness are key when it comes to handling hazardous substances like nitric acid.
If your facility needs advice on hazardous chemical spills get in touch with AbsorbentsOnline today! We offer a wide range of workplace safety supplies including acid storage cabinets and acid/chemical spill kits.
This is a revision to a blog post with an original publication date of December 23, 2013