[sc:date]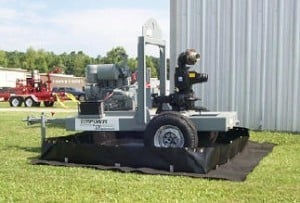 Some people assume that  "booms" and "berms" are the same. While they share some similar characteristics and features, there are a few major differences between them that shouldn't go unnoticed. Both booms and berms are two highly effective tools used to contain oil and other hazardous chemical spills; however, their overall design is quite different. If you own or manage a company that deals with oil or hazardous chemicals, you should educate yourself on the functions of a boom vs a berm.
Containment Berms
A containment berm (as shown in the image to the right) is pool-like structure that's used to contain a spilled chemical. The berm is placed underneath the source of a chemical leak for quick and easy containment. If a forklift is leaking oil or battery acid, for instance, the berm is assembled underneath the leak. Once construction of the berm is complete, it acts as a miniature swimming pool to contain the spill.
There are several different types of containment berms available, one of which is a portable berm. Just as the name suggests, this small yet versatile berm can be easily maneuvered under the source of a leak for instant containment. There are also "assembly" and "no-assembly required" containment berms. It's not a bad idea for companies to acquire several different types of berms to protect themselves against a variety of chemical spills.
Containment Boom
A containment boom differs from a berm in the sense that it doesn't have a bottom (see image to the left). Booms are placed directly over a spill to contain and/or absorb oil and other chemicals. Back when the Deep Water Horizon Oil Spill occurred in the Gulf of Mexico, cleanup crews used booms to contain the oil. Thousands of people participating in the cleanup efforts both at sea and on land. Containment booms played a key role in this cleanup process by limiting the spill's damage.
One of the benefits of using a containment boom is its simplicity. These large rolls are placed in a perimeter surrounding the spilled oil. And since oil is less dense than water, it floats to the surface where it can't escape. It's important to note that there are both containment and absorbent booms. Containment booms are designed specifically for containing oil in a given area, while absorbent booms work to actually clean the oil or chemical.