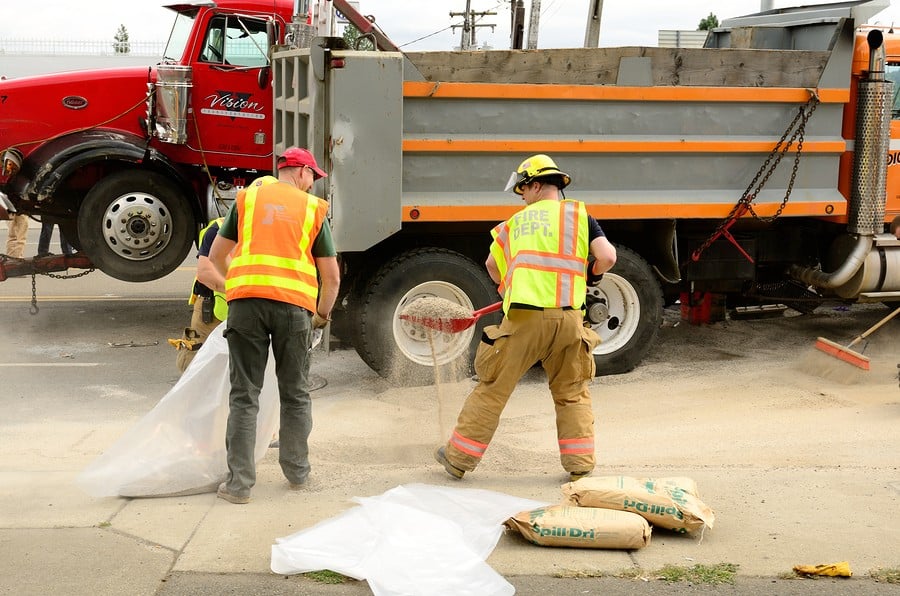 To the average person, it may seem like firefighters are more in the business of dispensing fluids than cleaning them up — but any firefighter knows he or she does a lot more than hold a fire hose, and that includes cleaning up spills. To do so effectively, it's important to have the right absorbents and spill containment products both in the firehouse and in trucks.
What kinds of spills do firefighters face?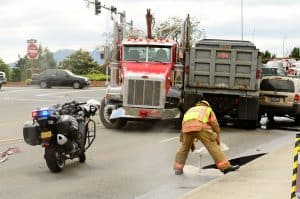 To see what sorts of spill containment challenges firefighters are dealing with every day, all you have to do is look to the news. For example, firefighters responding to a three-car collision in Harvard, Massachusetts used absorbents to clean up two small fluid leaks from vehicles involved in the crash. An oil absorbent pillow or oil absorbent pad would've been a likely candidate for this kind of job to both repel water and absorb oil-based fluids — and one pillow or pad can safely absorb more than 20 gallons.
In Halifax, Virginia, a tractor trailer pulled down some utility lines, resulting in a transformer leaking hydraulic fluid into the street. Firefighters used absorbents to create a dam to contain the leaking oil and prevent it from spreading while they orchestrated a spill cleanup. This can be done with a portable spill containment berm. Alternatively, absorbent socks can work in these applications if firefighters wanted to absorb the liquids, rather than just contain them.
A tanker accident in Hickory, North Carolina proves that spills can be unpredictable: The vehicle, which was carrying chicken byproduct, overturned and released the waste into the area. Firefighters shut the leaking valve, then built a dam from sand to prevent the waste from entering nearby storm drains. While sand did the trick in this instance, granular sorbents would've been an environmentally safe alternative capable of absorbing — not just blocking — the liquid.
Have the right absorbents on hand
When firefighters are called to the scene, they need to do their jobs quickly and efficiently or they could risk lives and environmental contamination. And that doesn't just apply in cases of fire but also in cases of spills. That's why it's imperative firefighters be prepared for any spill containment scenario with the right absorbents and equipment.
Whether it's as simple as a drip pan for the fire truck or as convenient as a small, portable spill cleanup kit to tuck into the cab for minor emergencies, absorbentsonline.com has all the absorbent materials that a firehouse needs to tackle any spill. Need help choosing the right absorbents? Our experts can help. Contact Travis Zdrazil at travis@absorbentsonline.com or (800) 869-9633.