How often should you check your safety shower? It's probably more often than you think!
A safety shower is an important feature of any building that uses hazardous chemicals, and it's important to make sure that they stay up to scratch.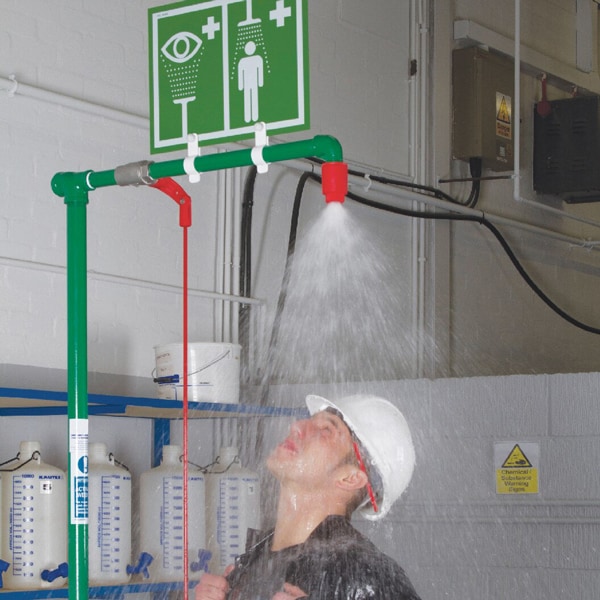 Checking your safety shower regularly isn't just important for making sure it stays in the right condition – it's also an important regulation that needs to be followed.
If you aren't sure how regularly to check your safety shower, then this guide has got you covered. Here we'll walk you through how often you should be checking your safety shower so you can make sure it stays in proper order.
So let's take a look at how often eyewash and emergency shower equipment should be checked.
What Is A Safety Shower?
First, let's take a look at what a safety shower actually is.
In short, a safety shower is a shower designed to wash away harmful chemicals and substances from your clothes and your body.
They are typically found in labs, job sites, and other work areas where there is a risk of encountering these harmful materials. Including airborne contaminants such as dust, and caustic liquids like acids.
Safety showers are also commonly accompanied by an emergency eyewash station. As you might guess, eyewash units are meant to wash chemicals and other harmful substances from the face and eye area to try and prevent damage to your vision and skin.
Combination units typically feature an overhead drench hose and a separate eye/face wash area. This emergency equipment provides a tepid flow of flushing fluid either from a plumbed or potable source.
Safety showers and eyewash equipment are crucial inclusions to every lab or site that works with hazardous materials. They are vital to ensuring the first aid safety and health of anyone working with these substances.
Why Do You Need To Check Your Safety Shower?
The first thing you need to do when you're looking into whether to check a safety shower on a regular basis is to find out exactly how frequently you need to check them.
There are two main reasons why you'd want to check your safety shower:
Make Sure That It's Working Properly
The most obvious reason to check your safety shower is to make sure that it's functioning properly. For instance, that the spray pattern from a plumbed eyewash provides a tepid water temperature at the appropriate flow rate.
If you don't check your emergency shower regularly, there could end up being an issue that you don't know about. Like sediment build-up causing an obstruction in the spray nozzle. Or, a loose activation handle that may prevent proper operation.
Not only will these problems keep the shower from working properly, but it also means that you won't be able to use it if there is an emergency.
To Conform To OSHA Guidelines
As mentioned earlier, checking your safety shower frequently to make sure it is working is necessary to follow regulations.
The guidelines set by OSHA (or the Occupational Safety and Health Administration) are put in place to ensure that your workplace has the correct safety equipment available, and violating these regulations could land your workplace in serious trouble.
Not complying with these guidelines can lead to heavy fines, sometimes in excess of $100,000, so you need to make sure that your facilities are up to scratch.
When dealing with hazardous substances, like corrosive fluids, safety is of the highest concern. Without functional safety facilities like a safety shower and emergency eyewash station, you are putting yourself and your employees at risk of injury.
How Often Should You Test Your Safety Shower?
To properly check your plumbed safety shower and emergency eyewash station, you need to visually inspect and activate them once per week.
An annual inspection service is also necessary, according to American National Standards Institute (ANSI) guidelines.
Regularly performing the appropriate maintenance ensures that the the shower and eyewash equipment will work as intended. It also helps clear lines of potential sediment build-up and stagnant water.
For conformance with ANSI Z358.1-2014, checks include making sure that the water pressure is sufficient, testing for leaks, and cleaning any residue off of the surfaces. Annual inspections should verify correct installation of equipment in accordance with the manufacturer's instructions.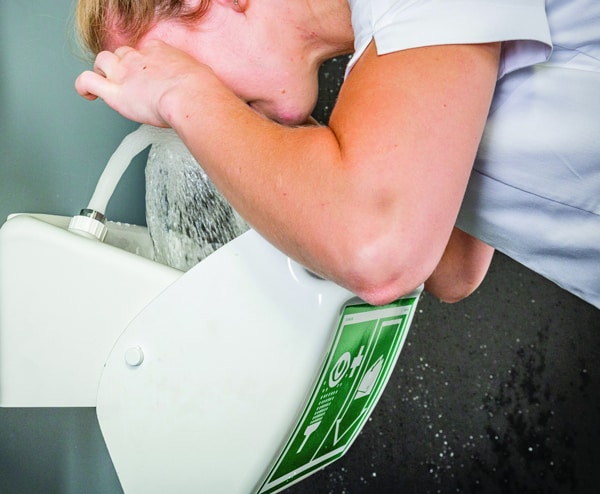 If you fail to perform these ANSI standard checks on a regular basis, then you may end up with issues that you aren't aware of.
While maintaining emergency response equipment might not seem like the top of your priority list (especially if it isn't used often), it's still important to check them at these regular intervals to make sure your emergency eyewash station and shower equipment are free from any issues and to conform with OSHA regulations.
How Do You Test A Safety Shower?
Now that you know how often you need to test your safety shower, you need to know what you should actually be checking. Here's what you need to do for your weekly activation checks:
First, you need to check that both the shower and eyewash station have the appropriate water flow and pressure.
A safety shower needs to be able to produce 20 gallons of water per minute (gpm) at 30 psi. This water needs to come out in a 20-inch diameter spray.
In terms of the shower's position, the shower head needs to be a minimum of 60 inches above the ground (although 80-90 inches is ideal), with the valve in easy reach.
The emergency eyewash station should produce a much more gentle flow of water as it will be directed towards the eyes.
These facilities need to have around 0.5 gallons per minute, although the water pressure can stay the same at 30 psi.
The nozzle needs to be between 33-45 inches above the floor, and well clear of any obstructions.
To pass their checks, both of these stations need to be able to run for 15 minutes without the water supply's flow or pressure being interrupted.
They also need to be protected against cold temperatures to avoid complications from freezing, and safe against corrosive materials (for hopefully obvious reasons).
Another thing to check is that emergency shower and eye/face wash stations are easily identifiable. Ensure their locations are clearly marked with a highly visible sign. If applicable, remember to inspect the green light which helps guide people towards them in case of an emergency.
Shower safety equipment should also be easily accessible and well-lit; this means that even if you have a harmful substance in your eye you should be able to find your way to these stations to clear out the irritant.
Final Thoughts
When considering how often should safety showers be checked, know that safety guidelines are there for a reason.
Making sure you test your safety shower and eyewash station at the proper weekly intervals will ensure that you and your colleagues are able to stay safe while working.
While the threat of OSHA fines can be enough to keep you testing these facilities on its own, prioritizing safety in your workplace is essential – especially if you're working with hazardous materials.
Testing your safety shower and emergency eyewash station to ANSI standards is a crucial part of workplace safety.
Now that you know how often you should be testing your safety shower (as well as how to go about it), all you need to do now is make sure that you stay up to date with these checks.
As long as you test your safety facilities when you should, you can rest assured knowing that you and your colleagues are safer from harm—and from fines!