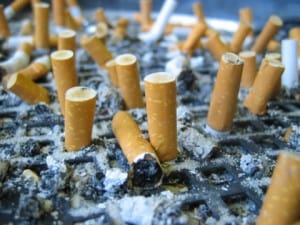 According to the Centers For Disease Control and Prevention (CDC), approximately 18.1% of U.S. population smokes cigarettes. While numbers have steadily declined over the past 60 years (43% of Americans smoked in the 1940s), there's still a large chunk of the population who smokes. Business owners should acknowledge this fact and provide their employees with a safe place to put out their cigarettes.
AbsorbentsOnline.com has the perfect solution for cigarette butts: outdoor cigarette receptacles. These receptacles offer workers a quick and convenient way to put out their cigarettes after they are finished smoking. It's not uncommon for workers to simply toss their cigarette butts on the ground, assuming someone else will come along to clean it up. It's this type of attitude, however, that leads to dirty workplace.
Outdoor cigarette receptacles feature a long, narrow neck that restricts oxygen to the contents inside. Once the cigarette butt is placed into the top, it falls down inside where the lack of oxygen forces the cherry out; thus, quickly stopping the smoke. Not only does this minimize secondhand smoke around the workplace, but it also reduces the chance of a fire.
Each time someone tosses a cigarette butt on the ground or out the car window, there's a chance it could start a fire. This risk is increased around workplaces which store or handle flammable chemicals. Workers here must use extra caution to ensure their cigarette butts are safely put out to protect the well-being of all employees.
Not-So-Fun Facts About Tobacco Cigarette Litter
1.69 billion pounds of cigarette butts end up as waste each year.
Cigarette butts are oftentimes found in beaches, streams, river, oceans, national parks, and city highways.
They are the number one most commonly found item at the beach.
Contain traces of chemicals such as benzoapyrene, aresenic, acetone, lead, formaldehyde, toulene, butane, cadmium, ammonia and benzene.
Wind, rain and mother nature scatter littered cigarette butts into water systems.
I know what you're probably thinking: why can't I use a basic ashtray? Well, there's certainly nothing stopping you from using ashtrays around your workplace, but outdoor cigarette receptacles are designed with a focus on aesthetics. For instance, the decorative receptacles look like a stylish stone or marble column and are available in black, beige and gray. From afar, they look like part of a building, but upon closer inspection you'll see they are fully functional cigarette butt receptacles.