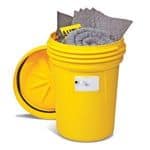 Different types of spill kits solve different problems — and having the wrong type will just create a bigger one! Here at AbsorbentsOnline, we want to make sure you're prepared for anything by helping you choose the right spill kits for your needs.
Types
The first step in selecting spill kits is identifying the types of liquids that you handle in your facility.
If you handle water-based or hydrocarbon non-hazardous liquids (including coolants, solvents, and antifreeze), Universal or General Purpose Kits will serve your needs. These absorbents are generally gray in color.
If you are handling hydrocarbons only, such as oil or gasoline, you'll want Oil-Only Kits, which feature white absorbents that repel water for easy cleanup.
And finally, if you're working with hazardous liquids, you'll need yellow-colored Hazmat Kits, which allow the safe cleanup of aggressive fluids like acids and solvents. (Hazmat Kits also absorb water-based fluids and hydrocarbons.)
Sizes
Once you've determined the types of kits you need, the next step is determining the sizes your kits should be. The key to this step is identifying your worst-case-scenario spill from any single container.
You don't necessarily need kits big enough to handle your largest spills — in some facilities, that would be nearly impossible! Read up on current regulations to determine the sizes of spill kits necessary for the volumes and types of liquids you'll be cleaning up.
Containers
Will your spill kits be stored indoors or outside? Ensure that whatever containers your spill kits are housed in are appropriate for the conditions they will face. The sizes of your spill kits will also determine their containers; for example, bagged and bucket spill kits are convenient for small-volume spills, but larger-volume spills will need drums or mobile containers, such as wheeled carts.
Not sure which combination of elements is perfect for your facility? We can build custom spill kits designed for your specific needs. You can request different numbers of socks, pads, or pillows than our standard kits include or request the addition of granular absorbents or peat moss. We can even include pick-up pans, brooms, drain covers, and personal safety products.
The sky's the limit — we are happy to work with you to put together your ideal spill kits!