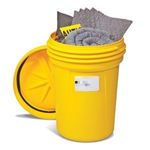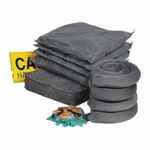 Our 30 Gallon Drum Spill Response Kit is one of our top selling spill kits. Besides the great price we have on this spill kit, it is also the perfect size spill kit for a large number of industrial, retail and marine users.
It is good feeling to know you made the right decision and have enough absorbents on hand in case a drum is knocked over or a tank is punctured. If the spill is moving towards an open drain or there is an accidental spill on water, you know you are covered because this spill kit absorbs up to 25+ gallons of fluid.
Tough, Durable Container Protects Contents.

The absorbents are contained in a bright, highly visible safety yellow container. This spill kit container seals and protects the absorbents from water, dirt and damage. It is very durable, UV protected and constructed of 100% HDPE. It will not rust and is corrosion free
Fast, Easy Access to Absorbents.
The screw off lid allows for fast, immediate access to the contents. You not only have everything you need to attach the spill (absorbent pads, socks and pillows) but also gloves and safety googles to help protect the person cleaning up the spill. Disposal bags with ties are included to complete the cleanup.
The universal or general purpose (gray) type kit is for water based fluids, oils and coolant. The white, oil-only spill kits absorb hydrocarbons only and repel water. The oil only absorbents are great for outside use, on water and for marine applications. The yellow hazmat kits absorb all fluids, are 100% polypropylene and are best for aggressive liquids like acids and bases (check before purchasing if they are compatible with all the chemicals at your location).
Refill Kits, Discounts and Custom Kits Available
Refill kits containing exact same contents as your original kit are priced below. Refill your used kit or use your own container. We can do custom kits to fit your needs. Discounts available on 5 or more spill kits. Feel free to contact us toll free at (800)869-9633 or by email
Quick Overview
UN and DOT approved
Absorbs 25+ gallons per kit
Yellow polyethylene container is highly visible.
Screw-on lid with gasket for a positive seal - easy access
Weatherproof
Drum has UV inhibitors and is chemical resistant to most materials.
Helps you comply with EPA/DOT
Plenty of absorbents for spills up to 25 gallons
Safety products included such as gloves and goggles.
Refill kit available
FOB Closest Warehouse
Usually ships in 24 to 48 hours
Contents of 30 Gallon Spill Kit

25 – Heavy duty super absorbent pads
4 - Absorbent Socks (3"x8 foot) or depending upon stock 8 – 3"x4 foot.
4 – Large absorbent Pillows (18"x18")
1 - Pair Goggles
1 - Pair Nitrile Gloves
5 - Disposal bags with ties
1 – Spill kit instruction sheet
Empty drums available for sale also. Contact us for pricing.
Order today and save. Protect Yourself. Have spill kits on hand. 100% satisfaction guaranteed.
Technical Info
Drum size exterior – diameter 23"x height 30"
DOT approved X-rated 30 gallon Over Pack - DOT 49 CFR 173.12(b). Can be used with packing groups l, ll & lll of hazardous materials.
UN Rating 1H2/X120/S
Absorbs 25 Gallons (amount absorbed is approximate - varies due to fluid type)
Custom kits available.
Compliance Info
29 CFR 1910.120(j)(1) and 29 CFR 910.1450(e).33 CFR 154.1047(c)(2), 49 CFR 173.3(c)(1), 40 CFR 263.30(a), 40 CFR 112.7(c)(1)