Six signs that it's time to change your storm drain filter
Storm drain filters are the easy solution for keeping waste out of the water system. But these filters only work their best for so long before you need to replace them. Which compromises the EPA's storm water pollution prevention guidelines.
Take a look at these telltale signs that it's time to replace your storm drain filter.
1. Sediment buildup
If there is one-quarter of an inch or more of sediment buildup, your filter insert most likely needs to be replaced.
2. Debris around the storm drain
Buildup of large debris, such as trash, might just mean that the drain filter needs to be cleaned. But always keep an eye out for any other signs that it needs replacing.
3. Standing water
Four inches or more of standing water around the drain 24 hours or longer after rain is a sure sign that your storm drain filter requires maintenance. Or replacing.
4. Hazardous material discharge
If any hazardous material that the filter is intended to absorb (such as motor oil) is being discharged by the filter, it's ready for a replacement.
5. Visible scum
It's time to replace the filter if there is a visible line of scum building up around it. This is usually a sign of recurring standing water.
6. Three years
Regardless of the state of the filter, if three years have passed without it being replaced, it's time!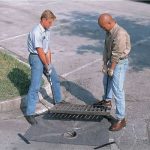 Shop storm drain filters and more at AbsorbentsOnline
We have three different storm drain guard filter models available, so you will be sure to find one that suits your specific facility needs. Check them out on our website. And always be sure to familiarize yourself with your Storm Drain Filters' Maintenance Guide.
[cta]Want to learn more about storm drain filters? The experts at AbsorbentsOnline can help. Contact Travis Zdrazil at travis@absorbentsonline.com or (800) 869-9633.[/cta]