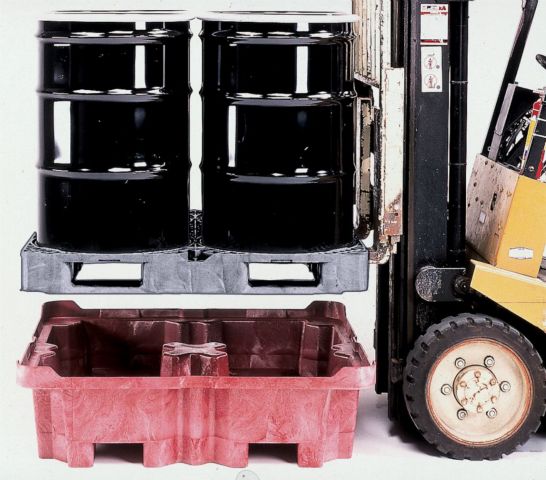 You may already have a drum spill kit or two: convenient drums filled with all you need to handle different types of spills safely and quickly. But what if you could clean up a leak or spill before it happened? A spill containment pallet allows you to do just that, and it's exactly what it sounds like: a pallet with sump capacity. In other words, if your drum leaks, the potential spillage is already contained. A "just in case" backup system like this isn't just a smart idea — it's also necessary for Environmental Protection Agency (EPA) compliance.
The EPA put Secondary Containment and Impracticability requirements into place to protect natural bodies of water from oil. If you handle oil in your workplace, the rules state you must have a secondary line of defense in case of oil spills or leaks. A spill containment pallet is the perfect way to meet these requirements.
Spill containment pallet types
Spill containment pallets come in a variety of sizes, types, and materials so you can pick the best products for your facility's specific needs.
Spill platforms — The most traditional spill containment pallet form, these platforms are also available in modular units that can handle an unlimited number of drums. Except for some of the higher capacity platforms, most of these pallets are low profile, making it easy to load drums onto them from wooden pallets.
Economy spill pallets — These tray-style spill pallets are more affordable than standard spill platforms. This option includes one-, two-, and four-drum models that do not include grates as well as a newer, flexible model that can hold up to six drums.
Outdoor drum storage — Looking for an outdoor spill pallet? These heavy-duty, weather-resistant storage options will keep your outdoor drums EPA-compliant and protect them from the elements.
Intermediate bulk container pallets — If you have an intermediate bulk container (IBC), a standard sump isn't enough to meet secondary containment regulations. Instead, you'll need an IBC pallet. These are available in standard, modular, and hardtop options.
Stackable and drum-dispensing work stations — Need to save some space? These stackable work stations can open up more available floor space. Plus, drum-dispensing options make it easy to dispense chemicals safely without compromising secondary containment and are available in both indoor and outdoor models.
Portable — If you need spill containment pallets for temporary or emergency use, portable drum containment berms may be the best option.
Every workplace is different, so yours may require different secondary spill containment solutions than another business. That's why it's so important to choose the right spill containment pallets for your specific needs.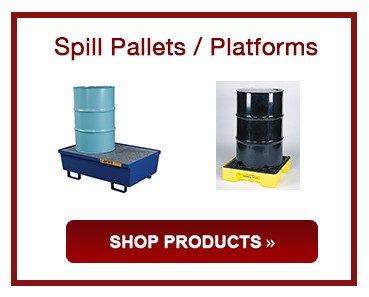 Choose your pallets wisely
The importance of choosing the right spill containment pallets cannot be overstated. Not only can the wrong type of pallet be inconvenient but it may even fail to protect against the spills and leaks it is intended for. For example, most pallets are made from polyethylene, but fluorinated models are available in case you're working with aggressive fluids that aren't compatible with polyethylene.
If you're choosing spill containment pallets for the first time, you'll want to collect some information before you shop:
How many drums will you need to contain your fluids?
What sorts of fluids are you working with?
How much space do you have available to store drums?
Do you need to dispense chemicals from these drums regularly?
If you can answer these questions, it will be easier to narrow down the ideal secondary containment options for your facility. Having trouble choosing the spill containment pallets right for you? A professional can offer you top-notch advice and help you find just the right fit. Order your spill containment pallets today.