Spill pallets prevent your 55 gallon drum or tote contents from going down the drain
You may already have a drum spill kit or two: convenient drums filled with all you need to handle different types of spills safely and quickly. But what if you could clean up a leak or spill before it happened?
A spill containment pallet allows you to do just that, and it's exactly what it sounds like: a pallet with sump capacity. In other words, if your drum leaks, the potential spillage is already contained.
Many different containment options and features are available. Optional drain plug outlets enable easy cleaning. There are also modular, nestable and forkliftable models to choose from. Units are capable of handling different gallon spill and load capacities.
Why are spill pallets necessary?
A "just in case" backup system for hazardous material storage vessel leaks isn't just a smart idea. It's also necessary for Environmental Protection Agency (EPA) compliance. Specifically, the Spill Prevention, Control, and Countermeasure (SPCC) and Facility Response Plan (FRP) rules.
The EPA put Secondary Containment and Impracticability requirements into place to protect natural bodies of water from oil. If you handle oil in your workplace, the rules state you must have a secondary line of defense in case of oil spills or leaks.
A spill containment pallet is the perfect way to meet these requirements. Additionally, they can help comply with Container Storage Regulation 40 CFR 264.175 and UFC Spill Containment Regulations. Plus, meet OSHA guidelines for hazmat operations and emergency response.
Spill containment pallet types
Spill containment pallets come in many sizes, types, and materials so you can pick the best products for your facility's specific needs. As well as 55-gallon drum containment, there are options for IBC totes and everything in between. Designs include a variety of features, such as units with or without drains.
Here's a quick overview of the different options available, and their purposes.
Spill platforms
The most traditional spill containment pallet form, these platforms are also available in modular units that can handle an unlimited number of drums.
Most of these spill platforms are low profile which makes it easy to load drums onto them from wooden pallets. The higher profile and capacity platforms have forklift pockets.
Economy spill pallets
These tray-style spill pallets are more affordable than standard spill platforms. This option includes one-, two-, and four-drum models that do not include removable grates. As well, a newer, flexible model offers spill control that holds up to six drums.
Outdoor drum storage
Looking for an outdoor spill pallet? These heavy-duty, weather-resistant storage options will keep your outdoor drums EPA-compliant and protect them from the elements.
Units with a lockable cover not only offer protection against inclement weather, but also from unauthorized access.
Intermediate bulk container pallets
If you have an intermediate bulk container (IBC), a standard sump isn't enough to meet secondary containment regulations. Instead, you'll need an IBC pallet for higher gallon spill volume.
These large capacity containment sumps are available in standard, modular, and hardtop options. Removable grates allow for easy spill clean up.
Stackable and drum-dispensing work stations
Need to save some space in your facility? These stackable work stations can open up more available floor space. Plus, drum-dispensing options make it easy to dispense chemicals safely without compromising secondary containment.
Available in both indoor and outdoor models, there are also expandable and mobile units available.
Portable pallets
If you need spill containment pallets for temporary or emergency use, portable drum containment berms may be the best option.
Lightweight but strong, they are compact enough to store in vehicles or stow on a shelf. These polyethylene units do not have built-in drains.
Consider your requirements
Every workplace is different, so yours may require different secondary spill containment solutions than another business. That's why it's so important to choose the right spill containment pallets for your specific needs.
If you're choosing spill containment pallets for the first time, you'll want to collect some information before you shop:
How many drums will you need to contain your fluids?
What sorts of fluids are you working with?
How much space do you have available to store drums?
Do you need to dispense chemicals from these drums regularly?
If you can answer these questions, it will be easier to narrow down the ideal secondary containment options for your facility.
Choose your pallets wisely
The importance of choosing the right spill containment pallets cannot be overstated. Not only can the wrong type be inconvenient, it may even fail to protect against the spills and leaks it is meant for.
For example, most pallets use high density polyethylene construction materials. That's because HDPE offers excellent chemical resistance, durability, and easy cleaning.
But fluorinated models are available in case you're working with corrosive or aggressive fluids that aren't compatible with polyethylene. These pallets are a light blue color, as opposed to yellow for regular chemical drums.
Heavy duty steel containment pallets are another alternative to HDPE. With excellent chemical resistance, steel is a good choice for flammable liquid storage.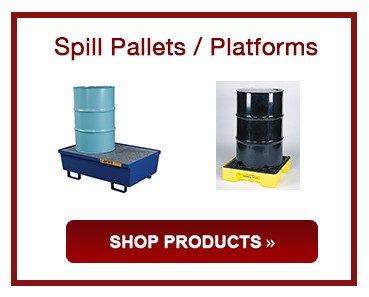 Find SPCC expert advice
Having trouble choosing the spill containment pallets right for you? A professional can offer you top-notch advice and help you find just the right fit. Order your spill containment pallets today.
This is a revision to a blog post with an original publish date of November 15, 2017