What happens when an oil tanker runs aground or breaks apart? The answer is quite simple: Oil spills.
Oil spills are a common occurrence in the shipping industry. In fact, they occur every year around the globe and can cause serious damage to marine life and ecosystems.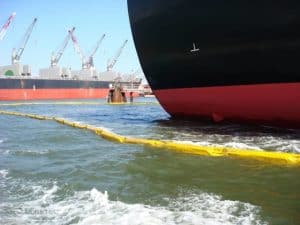 Naturally, when an oil spill does occur, it is a problem that needs to be addressed as soon as possible. This means that solutions need to be found for containing the spill and hopefully recovering some portion of the lost oil.
Containment booms are one of the most common emergency response measures for dealing with an oil spill.
If you aren't sure what a containment boom is, or how it works, then you have come to the right place.
In this article, we will be telling you everything you need to know about oil spill containment booms. And how they can help to mitigate the environmental damage incurred by oil spills.
What Is A Containment Boom?
A containment boom is basically a long piece of floating material that has been designed to contain an oil slick.
The main purpose of a containment boom is to prevent the spread of oil across large areas of water. By acting as a temporary floating barrier that can contain the spill.
Booms are made from very durable, light-weight materials which will float on water. For example, impermeable PVC fabric and foam flotations.
Containment booms come in different shapes and designs but share similar elements. Including a "freeboard" and floatation device that sits on and above the surface of the water. Which helps contain the oil and prevent it from splashing over the top of the boom.
Below the floating section, there is normally a curtain of waterproof material called the "draft" or "skirt". This part sits below the surface of the water to prevent the oil spill from moving underneath the boom.
To weigh the draft down and keep it in place, there is often a ballast chain threaded through the bottom.
Sections of boom can have chain connectors wrapped in plastic to prevent oil slipping through the gaps.
Different types of boom design mean they can be easily deployed or towed from vessels such as ships and barges. Oil spill response booms may also be fixed to structures like a pier or buoy.
Different Types Of Containment Boom
Not all oil spills will take place out at sea. Therefore, spills in other bodies of water need different types of boom specific to the water conditions.
The three main types include:
Fence booms with a higher freeboard and flat floatation that makes them ideal for use in calm waters.
Curtain booms featuring more round floatations and a continuous skirt that is suited to rough waters.
Inflatable booms which perform well in fast water but can puncture and deflate more easily.
For spills that occur in fast water, like rivers, booms that have a high tensile strength are required. This helps with stability to prevent them from moving with the current.
Often these booms will have a special cable running throughout their length, so they can withstand greater water pressure without moving or breaking.
If a spill occurs in calm waters, like a pond or stream, fence booms are typically used. These are made from flat panels that can be rolled up and stored on a boom reel. Which means they can be deployed much faster and more efficiently.
Some booms are made out of special materials that are designed to absorb oil out of the water as well as prevent it from spreading. Absorbent booms are mostly used in situations where the oil does not need to be reused after it has been removed from the water.
A sorbent boom can be used in conjunction with a conventional boom to make sure that the affected area of water definitely won't spread.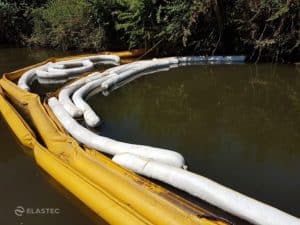 When an oil spill occurs, the first thing that must happen is to stop the flow of oil so that it doesn't get into the surrounding waters.
Once this has been done, the next step is to try and contain the oil within the area where it was spilled. To do this, a containment boom is deployed.
These booms are usually constructed out of plastic composites that will float on the surface of the water.
Since oil is less dense than water, any spill that occurs will most likely sit on the surface of the water. This is why the booms don't need a very long draft to effectively contain the pool of oil.
Provided the boom is deployed in good time, it can be placed around the spill to prevent it from spreading to other areas of water.
Once the oil has been contained, it is then pumped out of the area using skimmers, vacuums, and other similar devices.
How To Remove The Oil Once It Has Been Contained?
It is important to deploy a containment boom as quickly as possible after an oil spill has occurred. This is essential to make sure that the spill doesn't spread and pollute sensitive areas like coastline habitats.
Once the booms have been deployed and the oil slick has been contained, it needs to be removed from the water.
Skimmers or oil scoops can be used to take the oil off the surface of the water. This method is often great for removing the oil, so it can still be re-used afterwards.
Sometimes material called sorbents will be used to absorb the oil into a porous material, or adsorb it onto the surface of an object.
In some extreme situations, the oil is burnt away from the surface of the water. This method is highly effective, and burning will often remove up to 98% of the oil from a given area. However, since none of the oil is recovered it is often saved as a last resort.
Conclusion
Oil spills are one of the biggest threats to marine life in our oceans.
They can cause huge damage to the environment, and even lead to human deaths if left unchecked.
As such, they need to be dealt with as quickly as possible when they occur.
Oil spill booms are a vital piece of equipment for containing spills and making sure that they can be dealt with before they spread to other areas of water.
Booms won't necessarily remove any of the oil, unless they are the absorbent kind. But they will buy the authorities and oil spill cleanup responders valuable time for dealing with the situation before it can get worse.