Oil containment boom options for calm to fast water environments
Remember the BP oil spill? The Exxon Valdez? These famous oil spill incidents remind us of the devastation such an event can cause… For businesses, the environment, and countless industries.
Fortunately, few spills are as large and devastating as those environmental catastrophes. However, you still need to have the proper equipment on hand to combat smaller workplace spills.
Non-absorbent oil containment booms are generally great tools for containing dangerous spills. But, when you select an oil boom be sure to consider the environment and water conditions where you'll deploy it.
What is an oil containment boom?
An oil containment boom is a temporary floating barrier that contains an oil spill on a body of water. These spill response devices help reduce environmental pollution by preventing oil slicks spreading into biologically sensitive areas.
Confining an oil spill allows cleanup crew responders to remove hydrocarbons from the water. This emergency response process typically uses absorbents, vacuums or skimmer equipment to recover the oil.
Booms come in various designs and heights to accommodate different conditions and types of water bodies. For example, a robust boom is necessary in offshore coastal waters with rough waves. Similarly, a more lightweight or shorter height boom is suitable for calm waters like swamps or ponds.
That said, all booms share similar components which sit above and below the surface of the water. For instance, a skirt lies beneath the water while a freeboard and floatation hold the boom upright to entrap oil. Chains and connectors link boom sections into the necessary length. Likewise, tension cables, ballasts and anchors help fix a boom into position.
What are the different types of oil spill containment booms?
As we mention above, water conditions greatly affect a boom's effectiveness at containing hydrocarbon oil slicks. For that reason, booms come in a few design types to suit different water environments:
Fence booms
Feature a flat flotation device and a high freeboard. The flatter fence boom design typically allows for rapid deployment and storage on boom reels. On the other hand, they are least effective in rough waters because waves and wind can cause the boom to twist.
Curtain booms
Have a circular style floatation device and a continuous skirt that help prevents oil escaping under the boom. While curtain booms perform well in rough waters, they can be more difficult to clean and store than fence booms.
Inflatable booms
Are available in many shapes, including self-inflating models with air-filled buoyancy chambers. Inflatable booms are easy to clean and store, and generally perform well in rough seas. However, they tend to be more expensive, complicated to use, and can puncture or deflate.
Finding the right containment boom
When selecting the appropriate containment boom it's important to consider several criteria. For instance, the water body classification based upon wave heights and conditions. This will influence the boom's physical design including its overall height and reserve buoyancy on the surface of the water.
In the United States, ASTM F1523 or OPA 90 guidelines outline which boom is most suitable for different water classifications.
AbsorbentsOnline offers specialized non-absorbent booms that work in various water conditions. Use our helpful guide to determine what type of boom is right for your particular application.
Calm water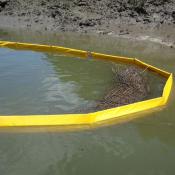 The EconoMax Oil Spill Containment Boom floats on top of water and contains debris and oil. A skirting barrier, which hangs below the water line, keeps pollutants contained.
This lightweight and compact boom travels and stores easily.
Shallow water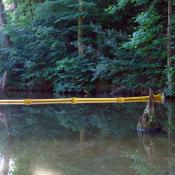 For water in streams, canals, and ditches, the Super Swamp Containment Boom is ideal. Made from top-quality, fully welded 22-ounce PVC material, this boom is both cost effective and lightweight.
The Super Swamp Containment Boom is easy to clean using a pressure washer and good detergent so that you can use it multiple times.
Marinas, lakes, and harbors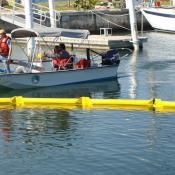 The cylindrical foam flotation blocks of the Simplex Oil Boom make it a great choice for shoreline and coastal areas.
This boom comes with marine-grade aluminum connectors that easily slide together. Additionally, the boom is compact enough for just one person to employ.
Fast-current waters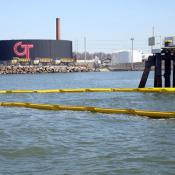 The OptiMax Boom works well in fast waters thanks to its top tension cable and is also suitable for long-term deployment. Choose this boom for strong currents including rivers, ports, harbors, and estuaries.
It's a popular piece of equipment among cleanup contractors for its ability to effectively block oil, trash, and debris.
Reach out to the spill response specialists
Oil spills can have extreme consequences for the environment and for businesses that don't have a backup plan. With multiple options available, you can find the non-absorbent boom that provides the right level of spill containment for your needs.
AbsorbentsOnline is here to help with all your spill cleanup and emergency response supplies. Feel free to contact us by email or call toll free at (800) 869-9633.
This is a revision to a blog post with an original publish date of November 19, 2014