Oil spills can be a significant environmental disaster, and the cleanup process can be long and difficult. Especially when crude oil leaks into the ocean, lakes, rivers, or wetlands. Which is not to say that spills on land are less harmful. Any oil spill can cause serious damage to the ecosystem and human health.
One common method of dealing with oil spills is sorbent products. They are widely used for spill response, to clean up and recover oil, in all types of industries. Such as mining, environmental remediation, and industrial waste management.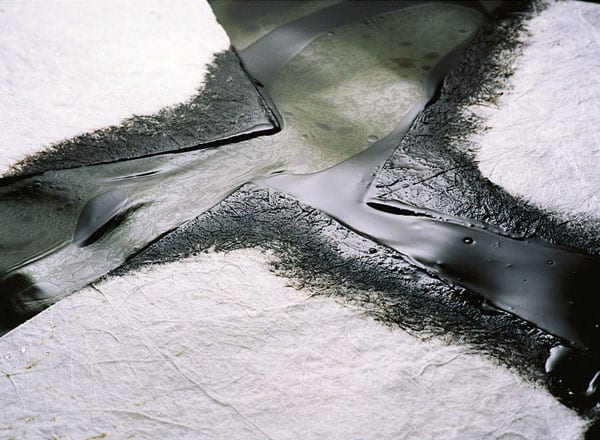 But what are oil sorbents, what are they made from, and how do they work? In this blog post, we'll answer those questions and more. We'll also explore some of the different types of sorbents that are available on the market. So if you're looking for information about sorbents for oil spills, read on!
How Do Oil Sorbents Work?
Sorbents are materials that absorb, adsorb, or, both (a combined process known as sorption). Adsorption and absorption mean quite different things. Therefore, it's helpful to understand their distinction:
Absorption is the process of a substance soaking into an absorbent material. Similar to the capillary action of a straw, sucking up water. When an absorbent soaks in oil, it swells up in size by at least 70 percent.
Adsorption refers to individual molecules, atoms or ions gathering on surface of an adsorbent material. Much like dust particles sitting on a glass table top. An adsorbent collects a coating of oil on its surface, without swelling more than 50 percent.
There are also two other characteristics to know about, that are important to oil sorbents:
Oleophilic: meaning to attract oil.
Hydrophobic: meaning to repel water.
Combined, all these properties create effective sorbents for spill cleanup. Particularly for oil spills in bodies of water. By supporting oil recovery from the water's surface with vacuum or skimmer equipment.
What Are the Different Types of Sorbent Materials?
There are three categories of materials that sorbents can be made from, including:
Natural organic sorbents: plant or animal by-products like peat moss, sawdust, cellulose, and feathers. They can adsorb from 3 to 15 times their own weight in liquids (often water as well as oil).
Natural inorganic sorbents: mineral type compounds including vermiculite, perlite, sand, and volcanic ash. They are able to adsorb between 4 to 20 times their weight in fluid.
Synthetic sorbents: man-made products and synthetic polymers that are similar to plastics. For instance, polypropylene, polyurethane and polyethylene. Synthetic sorbents can adsorb or absorb 70 times their own weight.
Which Forms Do Sorbents For Oil Spills Come in?
Because sorbents are made from different materials, their size and appearance also vary. However, there are four primary forms of sorbents used for oil spill cleanup:
Bulk loose materials: such as granular sorbents that you dispense directly over a spill. These can be made of natural or synthetic materials.
Enclosed sorbents: like booms, pillows or socks. They have a fabric or mesh outer shell that encases a loose filling. The enclosed contents can be any of the three material categories above.
Continuous sorbents: including mats, pads, or rolls. Synthetics, like polypropylene, are the most common construction material. The flat sheet design of continuous sorbents provides a large surface area for oil recovery.
Loose fibers: often called 'pom-poms' because of their bundled strand design. They are mostly made from attached fiber threads of synthetic polypropylene. Each strand allows multiple surface contact points to entrap oil.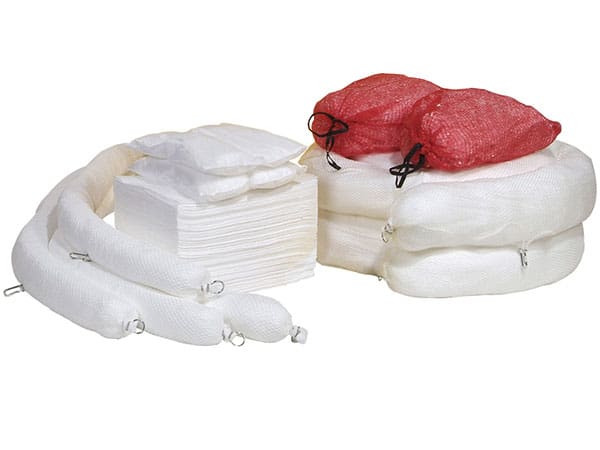 What Makes A Good Sorbent?
When choosing a sorbent for oil spill cleanup, there are several factors to consider. Each of the different sorbent materials and types outlined above have benefits as well as drawbacks. So, here are a few things to think about:
Sorption Rate
A good sorbent will have a high rate of absorption and adsorption. Although, the viscosity of oil affects sorption performance. So, be aware of which type of oil you are dealing with.
For example, the rate of absorption is faster for lighter hydrocarbons like gasoline. Whereas loose fiber adsorbents work more quickly and effectively on viscous, heavy fuel oil. Because their synthetic fibers provide a large surface area.
Capacity
Each sorbent type has its own sorption capacity, or saturation point (when it is unable to adsorb or absorb any more oil). Sorbents should be removed or replaced from a spill once they become fully saturated.
Synthetic products tend to have a higher capacity per weight ratio than natural sorbents. It is easier to see when a pad or mat is "full" compared to enclosed sorbents like pillows and socks.
Oil Retention
Good oil retention means a sorbent won't drip or leak once it reaches saturation. But, the weight of recovered oil can sometime stress and deform a sorbents' structure.
For example, when a sorbent boom is lifted out of the water it can release oil due to pressure on itself. This is an issue because any oil that is not retained can cause secondary contamination.
Application Site
Spills on water require different sorbents to spills on land. However, the size of the spill and the oil's viscosity matters, too.
Sorbent pads are effective at removing oily sheen from the water's surface. Likewise, they can be just as effective for small spills on land.
But, bigger spills demand more sorbent and larger surface area. In which case bulk sorbent materials can be a good solution for spills on land, but not in water. Sorbent booms are a better choice for water applications. Due to their oleophilic and hydrophobic properties.
Ease of Use
It's important for sorbents to be both easy to handle and retrieve. Therefore, synthetic sorbents are often more efficient to use than organic or inorganic materials.
Enclosed sorbents, like booms, are a great choice for spills that occur at sea. Since they are buoyant and float, they won't absorb water and therefore sink. Making them easier to remove from the water once saturated.
When it comes to small spills on land, bulk loose absorbent materials can work well. Organic or inorganic granules will efficiently spread over oil on an uneven ground surface. Yet they can be messy to collect and dispose of.
Cost Effectiveness
Loose material natural sorbents are often low-cost and readily available as manufacturing by-products. However, you'll likely need to use more product as a trade-off. Along with the fact they can be messy to work with. Additionally, some bulk materials (like sawdust) will adsorb water along with oil. Meaning they are not suitable for hydrocarbon spills in marine locations.
Conversely, synthetic sorbents can carry a higher price tag. Yet they are typically the most effective sorbent for absorption of oil. Especially as they have oleophilic and hydrophobic properties as well.
To avoid wastage, and minimize cost, use sorbents to capacity before discarding them. Pads and rolls can be cut to size to eliminate waste. Or consider a form of sorbent that is reusable. For instance, a handwringer can recover oil from socks or loose fiber sorbents meaning they can be reused again.
Storage
Many sorbents—like pillows, socks, and loose granular materials—can be bulky or heavy to store. Additionally, sorbents usually need to be kept in a controlled environment. In order to prevent things like moisture, UV, and pest (rodent or insect) damage.
These factors may be problematic for smaller facilities lacking sufficient storage space.
Disposal
Oil absorbents can be harmful if not disposed of properly. Because oil leach from used sorbents is a source of secondary environmental contamination.
The two most common ways to get rid of used oil-absorbents are incineration and landfill. Biodegradation is another alternative for some organic oil adsorbents like peat moss. Although the material degradation process can take several years.
Always follow the manufacturer's instructions for safe disposal of used sorbents. Along with local, state and federal regulations, including the EPA's hazardous waste requirements.
Conclusion
When used correctly, sorbent materials are an effective way of dealing with oil spill cleanups. However, it's important to know the advantages and disadvantages between each type of sorbent.
The main thing to remember is to choose a sorbent that works well for your specific situation. This means finding the right balance between things like cost, effectiveness, and ease of deployment.
If you need help deciding which form of oil sorbent your facility needs, contact AbsorbentsOnline.com today!