Plan, prepare, and have oil spill absorbents on hand for effective clean up
Whether on a large or small scale, when an oil spill happens, you need to be ready to leap into action. But are you and your staff prepared to respond to an oil spill if — or when — it occurs?
The term "oil spill" is primarily applied to marine spills, but they can also occur on land. Either way, oil is a hazardous material that can have a disastrous impact on wildlife, marine life, and the environment. So when spills do happen, quick and efficient containment and cleanup are imperative.
Ways to prepare for oil spills
Of course, the best oil-spill cleanup is preventing spills entirely. But prevention isn't always possible. Therefore, anyone who works with oil in any facility should make it a top priority be fully prepared for the possibility of spills.
The Environmental Protection Agency (EPA) requires leaders of certain facilities where employees store or use oil to put together and submit facility response plans (FRPs), detailing how they would handle worst-case-scenario oil spills. But, even if your facility doesn't meet EPA FRP requirements, you should still have a plan!
A comprehensive FRP lays out preparedness procedures and provides an action plan employees can follow in case of spills. FRPs should contain:
information about the facility, equipment, and personnel;
information about potential spill hazards and responses to each; and
a plan for regular training, self-inspections, and drills to ensure staff members are prepared.
An FRP should also include a clear response plan coversheet that workers can reference quickly and easily in case spills occur.
But even the best FRP can't solve oil spills by itself! You should also equip your facility with the cleanup materials a worst-case spill would require.
Spill response supplies to have on hand
Absorbent products
To quickly clean up oil spills, sorbents are a great solution. But did you know the term 'sorbent' actually refers to adsorbents and absorbents? The distinction being that absorbents take oil into the body of the material. Conversely, adsorption refers to oil adhering to an adsorbents' surface, similar to a desiccant.
The most effective oil absorbents are both oleophilic (oil attracting) and hydrophobic (water repelling). This type of sorbent product is usually white in color and floats on water.
Absorbent materials span a range of natural and synthetic construction choices. Organic options include everything from bark or sawdust, to corn cob and cellulose polymer materials. Typically messier to use and dispose of, these single use products often tend to adsorb water as well as oil. Which means they are best for cleaning up oil spills on land only.
Man-made plastic absorbent materials — like polyethylene and polypropylene — can absorb up to 70 times their own weight. And means these products are quick and efficient at soaking up spills in any situation. Not only that, but with a hand wringer, you can often clean and reuse them to save money!
What are the different types of oil spill absorbents?
Between oil absorbent pads, skimmers, socks, booms and more, the options can feel a bit overwhelming! So here's a quick overview breaking down a few uses for each type of product.
Sorbent pads and rolls
Oil absorbent pads and rolls come in plenty of sizes and quantities for any application. You can select pads with different absorbency options, including lightweight, medium or heavy duty.
Sorbent pads are a handy option for dealing with small spills. Economical perforated rolls let you tear off only what is necessary to soak up oil. Lay either product over a body of water to absorb oily sheen from its surface.
Absorbent socks, booms, and pillows
If you need to absorb more oil than a pad can handle, oil absorbent pillows or absorbent socks can be good choices. Ideal for hard-to-reach areas, you can wedge them under and around machinery or into tight corners.
To prevent a marine spill from spreading, link absorbent booms together to float on the surface of the water. These long sleeves will contain the oil, absorb the hydrocarbons but repel water.
Specialty marine and water sorbents
In addition to booms, several other floating absorbent products are ideal for marine applications. For example, drawing a 100 foot polypropylene sweep over water will remove any oily surface sheen.
Oil snare pom poms feature thousands of polypropylene strands for high surface area absorbency. While net bags, bilge booms, and catch basin skimmers are other lightweight products that remove hydrocarbons and oil from water.
Absorbent mats
A semi-permanent solution for floors, reusable absorbent mats offer convenient spill response for small spills and oil drips. Simply park forklifts, vehicles and other machinery or equipment right over the mat.
As well as water-base liquids, these mats also soak up other common hazmat leaks like solvents and coolants. Which makes them a popular option for automotive shops.
Granular spill absorbents
Loose material granular absorbing products are another top seller for automotive workshop floor spills. Just shake or apply these single-use materials directly onto oil leaks.
Because they are often made with bio-degradable contents like peat moss or sawdust, they can be messy to dispose of. And are most suitable for land spills only.
Spill kits
To be fully prepared for spills, an oil spill containment kit is often the easiest option. As the name implies, spill kits contain the absorbents you need to clean up spills and hazardous materials. They also include equipment necessary for your personnel to use those absorbents safely.
Oil spill clean-up kits come in a variety of sizes and different selection of products we outline above. This means you can pick a kit to handle your worst-case spill scenario and keep it on hand in case of emergency. If you need something very specific for your facility, we can even create custom spill kits here in the United States.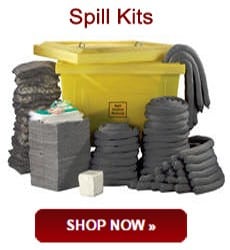 Spill containment
Another method of cleanup is containment; that is, confining a spill so it can't spread. Once you contain the oil, you can remove it more easily.
To contain a spill on land, use oil containment spill berms. They come in a variety of sizes to suit your needs. Often berms are set up to house and safeguard against large container leaks. Alternatively, a flexible berm lets you create an emergency containment dike barrier wall around a spill.
To contain an oil spill on water, use oil containment booms. Booms come in reusable non-absorbent options as well as heavy duty absorbency models.
One you are able to contain the spill, use any number of the products above to absorb the oil.
Become a spill expert
Oil spills can be catastrophic, and even the safest, most prepared professionals can experience accidents. Make sure you're ready to tackle any spill with the right plan, training, and materials.
This is a revision to a blog post with an original publish date of April 11, 2017