Oil absorbents are materials that are designed to quickly soak up oils and other hydrocarbon liquids. This makes them ideal for use in a variety of settings, from the workshop to the kitchen.
There are many different forms of oil absorbent available, each with its own set of benefits. But what exactly is oil absorbent made of? And what are the different types of absorbents for oil clean up?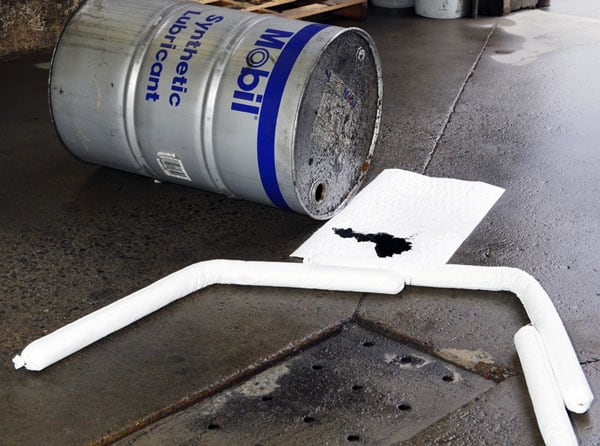 Read on to learn more as we explore the common types of absorbent materials—including natural organic and synthetic options—and how they are used for cleaning up oil spills.
What Are Oil Absorbents?
Oil absorbents are commonly used in industrial applications such as spill cleanup or removing oil from water. Which is why they are also a staple component of spill kits.
These spill absorbents can come in many different forms and application methods, but are typically white in color. Some examples are oil absorbent mats, socks, booms, and pillows.
Often, sorbents for oil spills have special oleophilic and hydrophobic properties. Meaning they attract oil and repel water. While less specialized absorbent materials include cloth rags, shop towels, and granular products similar to cat litter.
Regardless of type, oil absorbent products are used to soak up hydrocarbons like gasoline. Hence why they are essential to sites that store and handle oily fluids, like automotive shops and boat yards or marinas.
You can more easily deal with an oil spill by using oil absorbent. Which is important because potential safety hazards are present when leaks, drips, spray, or spills occur. Not to mention, Operational Safety and Health Administration (OSHA) standards require workplaces to be clean and free from hazardous material spills.
What Are Oil Absorbents Made From?
As already mentioned, oil absorbents come in different shapes and sizes. And they are made from a variety of sorbent materials. For instance, organic compositions—think peat moss and clay—as well as synthetics like polypropylene.
Some common types of absorbent materials include:
Polypropylene (PP) – This is a synthetic polymer that has good oil absorption properties.
Natural fibers – These are made with things like wood pulp, cotton, or flax fiber.
Synthetic fibers – Which includes man-made materials like acrylic, nylon, or polyester.
Each type has its unique absorbency properties and uses. We'll discuss a few of the different types next.
What Are Oil Absorbent Pads Made Of?
Oil absorbent pads, mats, and rolls are often made of varying thicknesses of polypropylene. These products are technically textiles but repel water. The pads can be woven together from single or multi-layers of polypropylene fibers.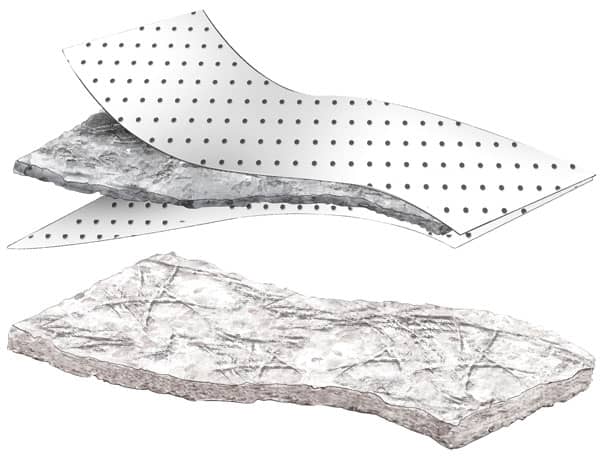 Mats can be purchased in rolls or cut into individual pieces depending on the size of the spill you are dealing with. Unlike paper towels, they do not dissolve and have strong tear and abrasion resistance.
Widely used in spill response, absorbent mats and pads are usually placed over the top of oily liquids. Oil absorbing pads are very easy to use and do not leave dust behind, unlike granular absorbents.
Whether you're dealing with a small spill or a major cleanup, oil absorbent pads can help to keep the mess under control.
What Are Granular Sorbents Made With?
Loose granular absorbent comes in several types but usually look like coarse sand. The granules are often made from recycled or natural, biodegradable compounds.
Unlike common cat litter, granular absorbents do not contain crystalline silica; a substance which is known to cause lung disease.
You can choose different packaging and dispensing methods, from small shaker containers to large sacks.
When you sprinkle the granules on an oil spill, it absorbs the oil and allows it to be swept up. However, this is can sometimes be a less effective and messy way to clean up spills.
Corn Cob
Corncob makes a great eco-friendly option for absorbing oil spills. As you might have guessed, this sorbent is made from ground-up corn cobs. It is also quite inexpensive, and comes packaged in large bags.
The granules are able to hold up to four times its weight in a variety of liquids, including oil. It is biodegradable and also safe to incinerate.
Peat Moss
Another all-natural and environmentally absorbent is peat moss. This plant-based material is biodegradable, incinerable, and comes packaged in bales.
Because it will not absorb water, it is ideal for cleaning up oil spills on water or land.
Gran-Sorb
This cellulose product is 100% biodegradable and is made from paper mill waste. It is versatile and works well on oils, lubricants, gasoline, and more.
Sold in large bags, Gran-Sorb is a popular option to pour over and soak up automobile fluids.
Super Sorbent
With a formula certified free of hazardous materials, Super Sorbent is lightweight and non-toxic. In addition to oil, it is suitable for other types of chemical spills such as coolants, and solvents.
A shaker container quickly dispenses this granulated universal absorbent. Making it ideal for routine maintenance tasks, and small leaks.
What Are Absorbent Pillows, Socks, and Booms For Oil Spills Made From?
Like oil absorbent pads, booms, socks and pillows are largely made with polypropylene fillers. All of these absorbent products have a synthetic fabric or mesh outer casing for additional strength.
Sorbent socks are also available that contain eco-friendly corn cob filler. We described this unique natural material above, in the loose granular absorbents section. Because corn cob socks absorb all kinds of liquid spills, they are not a good choice for using in or around water.
On the other hand, poly-blend oil absorbent socks and booms are perfect for tackling hydrocarbon spills in marine locations. They come in different size diameters and lengths and are flexible. Meaning you can easily shape socks around motors to deal with potential equipment fuel leaks.
Final Thoughts
There are many options for absorbents when it comes to spill response and clean up. Oil absorbents are often made of man-made polymers as well as natural fiber sorbent materials.
Some oil sorbents are better suited for certain situations than others. Be sure to research each option thoroughly before making a purchase. Take into consideration what kind of spill you might encounter, how much time you have to deal with it, and if there will be any residual cleanup required after the spill is removed.
We hope that this article has given you an insight into what oil absorbents for spill cleanup are and what they are made of!