A spill containment berm is used to confine leaks, drips, runoff, and spillages of oil or other hazardous liquids. In other words, a heavy duty containment unit that acts like a catch basin. For example, you can place a berm directly below the source of a spill to collect and stop any fluid from spreading.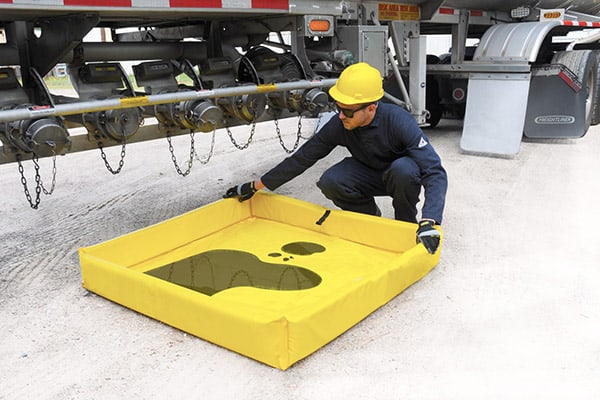 Spill containment berms are widely used in industries where hazardous materials are handled. Including containment solutions for fuel tanker trucks, large IBC totes and frac tanks. They provide a way to help prevent hazardous liquids from polluting soil and water ways. Through effective spill control and containment measures.
Containment berms come in many sizes, design styles, and spill capacities. So let's take a look at the different types of spill berm containment systems. And how they work or can be used for various applications.
What Is A Spill Berm Used For?
A berm is used for two main purposes:
Spill containment: meaning to stop a spill from spreading, as part of a spill control response plan.

Secondary containment: a device or structure that can hold the entire volume of liquid from a primary container, should it fail for any reason.
Spill containment berms help facilities meet SPCC (Spill Prevention Control and Countermeasure) requirements. Specifically, guidelines issued by the Environmental Protection Agency (EPA). Such as Container Storage Regulation 40 CFR 264.175.
In short, berms help businesses prevent, prepare for, and respond to hazardous spills. Along with other spill containment products including spill pallets, absorbents and spill kits. Their purpose is to avoid harmful materials, like an oil spill, from entering stormwater systems. Or polluting the environment in any other way.
Some example situations of when spill berms are used include:
Spill prevention during vehicle and machinery fueling operations
Temporary secondary containment for large tote storage like IBC or tanks
A lightweight alternative to spill pallets when transporting 55-gallon drums
Washdown stations to confine fluids while cleaning vehicles
Collecting drips from leaking equipment during repairs or maintenance
Containing spills when transferring or working with chemicals.
Types Of Spill Containment Berms
There are many different spill containment berm types and designs available. From berms using rigid L-bracket wall supports, to those with collapsible sidewalls. Meaning some berms require assembly while others unpack or roll out ready for quick use.
Likewise, containment berms come with varying sidewall heights and spill capacities. Including small, portable berms capable of holding a few gallons. All the way up to jumbo or custom size berms that can hold thousands. You can even find specialty berms for applications like railroad tracks or wellheads.
Most berms are intended for temporary applications and are also reusable. They create a self-contained, leak-proof containment area, with sides and a bottom.
Low-profile berms allow vehicles or wheeled equipment to pass over the compressible sidewalls. For example, tanker trucks can drive in to park inside a foam wall berm. Whereas self-rising berms have sides that activate and float upwards, in response to liquid spills.
Other berms require semi-permanent installation, and adhere to a work zone floor (similar to a curb or dike). This style of build-a-berm kit lets you create a custom size and shape spill barrier. For instance, a low profile berm around a piece of machinery or small spill-prone zone.
In short, the type of berm you choose will depend on how and where you plan to use it.
What are Secondary Containment Berms Made of?
The containment area of spill berms are made from flexible but durable materials that prevent liquid from escaping. Such as synthetic fabric sheeting of PVC, polyethylene, polyurethane, or vinyl-coated polyester.
Berms that require assembly, like L-bracket models, often have heavy duty metal wall supports made of galvanized steel. Whereas one-piece portable berms may use lightweight aluminum struts built-in to the sides.
Foam wall berms typically have an inner core of dense foam blocks, like open-cell polyurethane. Because they are intended for drive-in and out use, a ground mat or track mat is sometimes recommended. This creates a secondary layer between the ground, berm, and vehicle tires. Which helps protect against wear and tear to increase the berm's service life.
While berms are effective at secondary spill containment of liquids they can have some limitations. Notably, not all berm construction materials are compatible with all kinds of spills. Certain chemicals like acids, alkalis, or solvents may degrade or damage the berm during contact.
How Do Spill Containment Berms Work?
Although the appearance and size of spill berms may differ, they all work the same way. As a containment unit with impermeable barrier walls that confine a spill inside it. By temporarily containing spills, berms provide time to recover or clean up the liquid. While also protecting the environment and stormwater systems from harmful chemical or oil spills.
Depending on the type of berm, its walls can be rigid, collapsible, or self-rising. Some berms work like a spill tray, and can be placed under a truck or piece of equipment to catch drips and leaks. Others need to be assembled before use. Such as resizable modular berms you erect around large containers like frac tanks.
How Much Does A Spill Containment Berm Cost?
The cost of a spill containment berm depends on the type you choose. Including its size, capacity, material, and design. However, prices start from under $100 for small berms all the way into the thousands for larger units.
Construction materials influence price-tag, too. PVC berms are typically more affordable than ones made from copolymer materials. Similarly, spill berms that require assembly usually cost less than styles that don't.
While a cheap berm option may sound appealing, it pays to weigh up how long it may last or how often you expect to use it. Higher priced containment systems are probably going to be easier to deploy. And versatile enough to take on multiple types of uses. Not to mention, offer a more durable and long lasting containment solution.
Final Thoughts
Spill containment berms come in a wide variety of designs with versatile use applications. They can also be an effective way for facilities to meet SPCC requirements and EPA regulations.
Selecting the right berm for your business (that's also at the best price) can feel overwhelming. If you need advice, or have questions about secondary spill containment, AbsorbentsOnline is here to help. We supply all kinds of spill prevention and clean up solutions. From absorbents and spill kits to ground mats and more. Get in touch with us today!