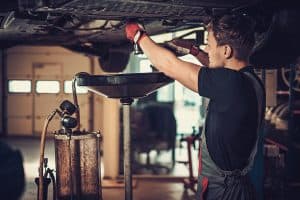 In your auto repair shop, you have a lot on your plate. But while a little leak or spill might not seem like a big deal, a messy shop could come back to bite you in time — and slips, trips, and falls are nothing to joke about.
That's why, if you want to be able to focus on the work that matters — the auto repairs — you must be prepared for those leaks and spills first.
Prepare for every circumstance
When you work with all the oils and fluids that come with auto maintenance and vehicle repair, you're bound to experience a few leaks. But you can stop those leaks before they hit your floors with an Abzorb oil mat. This durable mat not only protects your floors from rust and stains but also provides non-slip protection for mechanics' safety. Mats are great for both indoor and outdoor use and can even withstand vehicles of all shapes and sizes rolling over them without sustaining damage. They come in many different sizes to suit your specific needs and can last years before needing to be replaced.
Need a higher volume solution to drips and leaks? Drip pans are easy to empty once they're filled, and you can replace the absorbent pillow each holds and reuse the pans long-term to save money.
Of course, you can't always know where a spill or leak is going to happen. That's why it's important to have shop rags on hand for quick cleanup. And, in the event of a larger scale spill, you'll want to have heavier duty absorbents within reach, like absorbent pads or rolls, which come in universal absorbent materials for general use or oil absorbent material specifically for hydrocarbon-based fluids.
And stains and slips aren't the only things to worry about — if you do any work outdoors, it's important to make sure rainwater isn't carrying the pollutants you work with into the water system. Stormwater management products can help keep your fluids out of the sewers and local water features.
Keep employees safe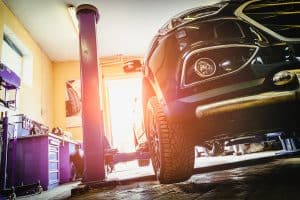 It's one thing to keep your floors safe and another to keep your mechanics safe. For those who stand throughout the day, anti-fatigue mats can protect their backs, legs, and ankles from strain.
Do you have stairs in your auto repair shop? How about uneven surfaces or ramps? These are common sites for slips, trips, and falls. Safety stair treads can help you reduce the likelihood of an employee losing his or her footing on a step and putting him or herself at risk of injury.
In your auto repair shop, you need to focus on your clients' vehicles. When you're prepared for spills and leaks, you can trust that your employees and your shop are protected and prepared for every eventuality. That way, you can keep your mind on your work.
Not sure what kind of absorbents and safety materials you should have in your auto repair shop? The professionals at AbsorbentsOnline can help. Contact Travis Zdrazil at travis@absorbentsonline.com or (800) 869-9633.