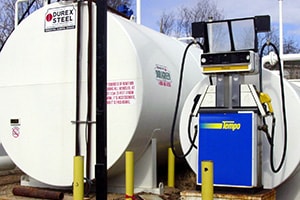 Aboveground storage tanks (AGT) are frequently used to hold everything from gasoline and diesel fuel to spent oil and solvents. They offer a fast, safe and effective way to store large amounts of potentially hazardous chemicals.
But like all chemical storage containers, there are certain laws and regulations companies must abide by when using an AGT. Both federal and state laws govern the use of AGTs, leading to confusion among some business owners.
To learn more about the basics of AGT compliance and how to avoid a fine or penalty, keep reading.
Why Do Laws Apply for AGTs?
The reason why federal EPA and state laws govern the use of AGTs is because of their direct threat to the environment. If a tank filled with petroleum begins to leak, it may pollute the surrounding ecosystem along with nearby water supplies. Even non-petroleum storage tanks pose a risk if they are filled with solvents or other hazardous chemicals.
Allowing these chemicals to gradually escape the AGT and enter the ecosystem is a serious danger that must be avoided. Companies can reduce the chance of this happening by following some basic steps.
AGTs Must Have a Backup Containment Method
According to federal regulation, all AGTs must have both a primary and secondary containment method. If the primary method fails, the backup method will contain the chemical to prevent it from escaping. Some of the most commonly used backup containment methods includes dikes, pits and drainage trenches.
Having a secondary preventive measure in place will contain the chemical in the event of a spill; however, it's important to note that the dike, pit or drainage trench must be large enough to hold 100% of the AGT's chemical content.
AGTs Must Have One of The Following:
Federal regulation also states that AGTs must possess at least one of the following:
High level pump cutoff
High level alarm
Audible or code signal between pumping station and gauge
Digital computer or mechanical device for measuring liquid level
Regular Testing of AGTs is Necessary
Companies are also required by law to inspect and test their AGTs on a regular basis. This includes both visual and instrumental testing to gauge the liquid levels, safety mechanisms and function of the tank. The frequency of testing varies depending on a number of factors. You read more about testing requirements in this fact sheet document from the EPA.
State Laws Regarding AGT
Some states have their own set of laws and regulations regarding AGTs. It's important for companies to check their state's laws before implementing an AGT in the workplace. For instance, it's not uncommon for states to dictate that all AGTs must be newer than 1 year of age. Once an AGT reaches its first birthday, the company must replace it with a new model.