[sc:date]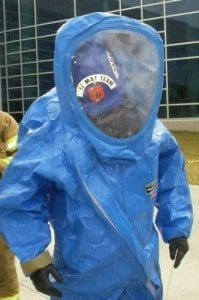 When a spill occurs, responders will need to gear up in the appropriate personal protective equipment (PPE) before entering the contaminated area.  As the name suggests, PPE is designed to protect the wearer from spill-related dangers. Because all spills are different, however, it's important to choose the right PPE before entering the area. In this post, we're going to reveal the different levels of PPE.
PPE is more than just a recommendation, it's a requirement by the Occupational Safety and Health Administration (OSHA) for limiting workers' exposure to hazardous materials. If a spill cannot be controlled by normal means, OSHA states that workers must gear up in PPE. Of course, the type of PPE necessary will depend on the situation. Certain types of PPE are tailored towards specific chemicals and toxins. This is why it's necessary to accurately identify the spilled materials before responders enter the contaminated area.
PPE Protection Levels
The Environmental Protection Agency (EPA) has defined four level of risk associated with chemical spills. PPE is found readily available based on these varying risk levels, with "Level A" being the most secure and "Level D" being the least secure.
Level A – Highest level of both skin and respiratory protection available. Level A PPE is constructed with reinforced, sealed seams to prevent air from entering. When worn, Level A PPE will offer a superior level of protection against chemicals and contamination.
Level B – Contains the same industrial-grade plastic coasting material to prevent against chemical splash; however, Level B PPE does not protect against airborne gas exposure. The unsealed seams leaves the wearer vulnerable to chemical gasses. Level B PPE are intended for areas with no harmful gasses present.
Level C – Similar to Level B PPE but with less respiratory protection. Most Level C PPEs contain a basic air respirator rather than a SCBA. These suits are only used when the contaminated area is deemed safe for air purifying respirators.
Level D – The lowest level of protection is Level D PPE. There's no respirator mask used in conjunction with these suits. In fact, most Level D PPE suits are basic jumpsuits, offering minimal skin protection an no respiratory protection.
Hopefully, this will give you a better understanding of the different PPE levels. It's simple system that was put in place to help companies and responders select their protective suit and gear.