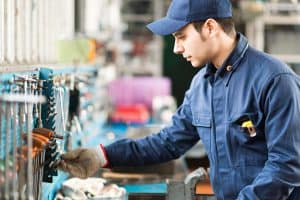 How many accidents occur every year in your workplace due to clutter and messes? How frequently are people slipping, tripping, or falling over misplaced items and bumping into things or knocking them down? An untidy workplace can become a hotbed for potential dangers — not to mention a source of all sorts of inconveniences.
There are many benefits to having a clean workspace.
Easier to find things — When everything is organized, it's easy to find the tool or item you're looking for, which leads to decreased frustration.
Increased productivity — Clutter makes it harder to focus. That means a clean workplace allows for more efficient work, leading to higher productivity.
Improved morale — People feel happier and more comfortable in clean spaces. When combined with increased productivity and the ease of finding what you need, it's no wonder cleanliness improves morale!
Not sure where to start tidying up your workplace? Here are some areas to focus on to help you cut down on the clutter:
Organize the little things. Organize tools, small parts, and other easily lost items in a logical way that makes them both easy to find and convenient to put away after use. You shouldn't have any "miscellaneous" shelves, cabinets, or drawers.
Store safety and cleanup materials appropriately. Keeping your safety and cleanup materials organized isn't just good housekeeping but it's also an important safety practice in itself! Store potentially hazardous materials in safety cabinets or safety cans and neatly organize and contain your spill cleanup materials in spill kits.
Keep walking areas clear. Keep high-traffic areas clutter-free to avoid trip hazards, and keep them clean and dry with absorbent mats to prevent potential slip-and-fall injuries.
Put garbage in the trash. Place all waste in trash containers. If you find that employees leave debris in specific areas, reevaluate where the nearest trash receptacle is and how you can make it more accessible and convenient.
Ready to get started? You should make your plan as organized as you want your facility to be. Develop standard operating procedures to keep systems in place and tackle your workplace in sections to ensure you thoroughly straighten every inch of the facility. Treat your "housekeeping" the same way you treat inventory management or audit events by assigning a task force and working out a plan.
A clean workspace is a safe workplace, so don't wait to make sure yours is in tip-top shape!