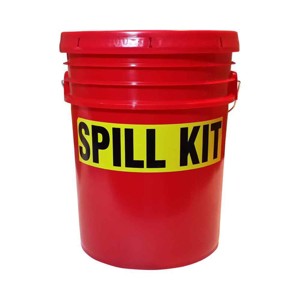 Okay, you have spill kits. But having them isn't enough — what do you do if and when those dreaded spills actually occur?
Preparation
First, you have to make sure you're prepared for spills before they happen. You can reduce the risk of damage and injury by having spill kits handy. (For information about how to choose them, read 3 Things You Need to Know About Spill Kits.) You also need to have a plan in place.
To prepare, make sure you inventory all of the liquids on your site — know what they are, where they are, and their volumes. New Pig recommends going a step further: Identify which areas are at high risk of spills and take note of the worst-case-scenario volume of liquid that you may have to deal with at each location. Then, ensure that your spill kits are well-suited for the types and volumes of liquids and that they are accessible.
You can make spill cleanup easier by preparing a Safety Data Sheet, as recommended by the Occupational Safety and Health Administration, for each liquid at each location. Check regularly that these sheets are up to date so employees can refer to them at the time of spills.
So how do you use spill kits?
An essential part of spill preparation is ensuring that your staff has proper spill kit training.
Conduct regular training on spill-control best practices, safety tips, and the use of spill kits.
Have "spill drills" in which your staff responds to mock spills; drills are great ways to test your preparedness, find weaknesses, and identify areas for improvement.
Check out this video by Seattle Public Utilities to see more about preparation, handling, and how to use spill kits.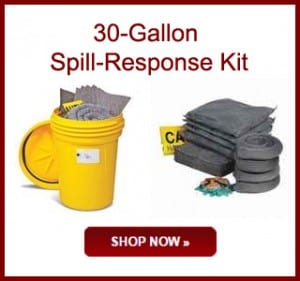 What's in your kits?
Several essential items are included in the average 30-gallon spill kit. Here's a quick overview of how to use each of them:
Pads — Absorbent pads should be placed directly on spills to absorb liquids quickly.
Socks — Use absorbent socks to circle spills to contain liquids and prevent further spread. Make sure to overlap the ends of socks to create leak-proof barriers.
Pillows — Like pads, absorbent pillows should be placed directly on top of spills. Pillows will absorb a higher volume of liquid than pads.
Goggles — Goggles should be worn when cleaning up spills to protect the eyes from hazardous liquids, which may splash during cleanup.
Gloves — During spill cleanup, nitrile gloves will protect hands from hazardous materials.
Bags with ties — These disposable bags tie closed for easy disposal of used absorbent materials.
Instruction sheet — Each spill kit includes an instruction sheet to answer any additional questions users may have.
Empty drums are also available for purchase if you want to build your own 30-gallon spill kits from the absorbent materials we offer.
Need more in-depth information about one or more of these items and how they're used? Contact AbsorbentsOnline, and we'll be happy to help!