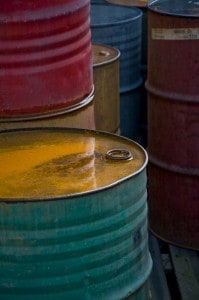 Companies that store, transport, use or otherwise handle hazardous chemicals should take precautionary measures to help reduce the risk of a spill. It's easy to overlook the fundamentals of maintaining a safe working environment when you're running a business; however, failure to take preventive measures against chemical spills could place your company at risk for OSHA and/or EPA fines — not to mention the fact that it places the health and well-being of workers in jeopardy.
Why Chemical Spill Prevention Is Important
Some people assume that only large-scale chemical leaks, such as the one that occurred in West Virginia, are dangerous. But in reality, it's usually the smaller leaks that prove more harmful to workers and the environment. Small chemical leaks and spills can pose a direct threat to workers' health, the environment, and nearby animals. This is why the Occupational Safety and Health Administration (OSHA) and the Environmental Protection Agency (EPA) have strict rules in place regarding the prevention and cleanup of hazardous chemicals leaked or otherwise spilled in the workplace.
Hazardous chemicals include any of the following:
Flammables
Corrosives
Oils
Solvents
Explosives
Combustibles
Store Hazardous Chemicals In Covered Areas To Avoid Rainfall
Hazardous chemicals should be stored in covered areas where they are protected against rainfall. If rainwater mixes in with a hazardous chemical, it could further contaminate the workplace by diluting hazardous chemical. Granted, chemicals are typically weaker when diluted with water, but this also means there's more of it. Response teams will have to work extra hard to clean up a hazardous chemical spill if it's mixed with rainwater.
Properly Label All Hazardous Chemicals
OSHA requires companies to properly label all hazardous chemical being stored or used in the workplace. Whether it's a flammable, corrosive, oil, etc., all types of hazardous chemicals must posses a clear and accurate label. This is done to help prevent accidental spills involving hazardous chemicals and to improve cleanup response in the event of a spill.
Train Workers
Of course, another important step in preventing hazardous chemical spills in the workplace involves employee training. Workers should be trained on how to properly handle the respective chemicals, including which containers to store it in, what PPE to wear, how to minimize the risk of a spill when handling the chemical, and the proper cleanup procedure in the event of a spill. Learn how to choose the right spill containment kit for your facility.