[sc:date]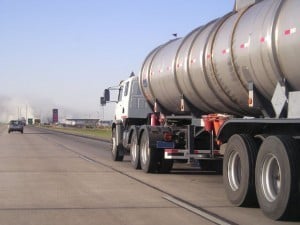 Transporting chemicals safely should be a top priority for all companies. Driving on public roads is dangerous enough, but this level of danger is multiplied when you add chemicals into the mix. Whether it's a short drive around the block or a cross-country excursion, companies need to follow proper safety guidelines when transporting chemicals. Here, we're going to take a closer look at chemical transportation safety, revealing some of the potential dangers companies face along with solutions to the problem.
According to AmericanChemistry.com, nearly a third of all U.S. chemicals and chemical products are transported by rail. And thanks to the new regulations and guidelines set forth by Homeland Security, rail transportation has become increasingly safe over the years. From 1965 to 2007, just .036 of 2.2 million rail shipments of chlorine have been involved in an accident. Don't let this fool you into thinking congress is 'comfortable' with the current numbers, however. On the contrary, numerous organizations along with congress are constantly working to establish new safety guidelines and regulations to reduce the chance of rail accidents.
Not all companies rely on rail systems to transport their chemicals. It's not uncommon for companies to use traditional semi tractor trailers to pull chemical loads across the states. This, of course, opens up a whole new world of possible dangers and hurdles. Even if the driver performs his or her job correctly, there's always the chance of a nearby motorists failing to pay attention on the road. Each year, there are an estimates 6 million accidents on U.S. roads and highways, some of which involve trucks transporting chemicals.
The number one rule when transporting chemicals is to keep the appropriate spill kit on hand. Let's hope it never happens, but in the event of a spill, a spill kit will allow the driver to help control the chemical. Spill kits are generally broken down into one of three different categories: Universal, Oil-Only and Hazmat. Universal spill kits are designed for spills containing either water or hydrocarbon chemicals, while Oil-Only kits are designed specifically for oil. Lastly, Hazmat spill kits are geared more for corrosive acids, solvents and other 'aggressive' chemicals.
You can browse through our selection of spill kits here. When choosing a spill kit for your company's transportation logistics, it's recommended that you consider the type and amount of chemical being transported. Doing so will ensure the driver has all the necessary equipment to contain a spill during the transportation of chemicals.