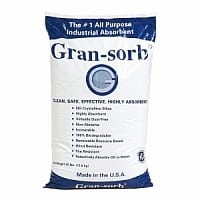 Granular absorbents make cleaning up spilled water, oil, gas, antifreeze and other chemicals a breeze. Simply sprinkle it directly on top of the liquid and it will immediately begin to soak up the spilled liquid (hence the name: granular absorbent). Once the majority of the liquid has been absorbents, you can then bag and dispose of the soaked granulars. It's an incredibly easy, and equally as effective, solution for cleaning up spilled liquids and chemicals in the workplace.
There are well over half a dozen different types of granular absorbents on the market. While each of them are designed to serve one sole purpose — to absorb liquids — some prove to better than others. Take a few minutes to familiarize yourself with the subtle nuances between each of the different granulars before making a purchase.
Different Types of Granular Absorbents:
Corn Cob: Corn cob granular are made from the ground remnants of corn cobs. It's a highly effective universal absorbent that's able to hold 4 times its weight in fluid. Whether you're dealing with oil, antifreeze or plain water, you can rest assured knowing corn cob granulars will do the job.
Peat Moss: Made from the Sphagnum moss, this all-natural granular is particularly effective for cleaning oils. Just 2 cubic feet of this stuff will absorb approximately 16 gallons of spilled oil. It's important to note, however, that Peat Moss does not absorb water.
Gran-Sorb: A top-selling product here at AbsorbentsOnline.com, Gran-Sorb is made from the cellulose material leftover from paper mills. It's 100% biodegradable and can be used to absorb oil, gasoline, antifreeze, coolants, solvents, water and numerous other liquids.
Clay Kitty Litter: The name is self-explanatory; clay kitty litter is the same stuff used to absorb cat urine. The primary benefit in using kitty litter is its inexpensive price tag, but that doesn't necessary mean it's the best choice.
The U.S. Federal Emergency Management Agency (FEMA) conducted a test to determine which granular absorbents are the most effective. They found cellulose, such as Gran-Sorb, to be the most effective for absorbing oil, fuel and antifreeze, while Peat Moss and Polypropylene came in a close second.
"Cellulose insulation was the material that absorbed the most oil, fuel, and antifreeze; however, it also absorbed the most water. Polypropylene and Peat Moss also did well with absorption percentages for oil, fuel and antifreeze above seventy percent of their volume," wrote the Federal Emergency Management Agency (FEMA) in a study conducted on the efficiency of various granular absorbents.