If your business deals with any kind of hazardous material, then you know the importance of having a spill kit on hand. And that's because the proper supplies can help avoid damage and costs that a spill may bring with it.
But have you put much thought into where these spill cleanup kits should be located?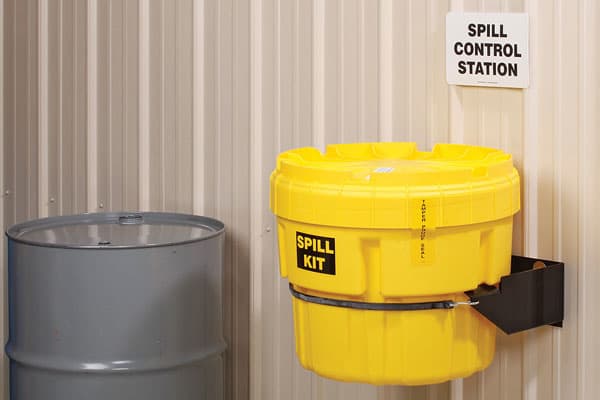 In this post, we'll explore the best places to put a kit to ensure that it is quick and easy to access in case of an emergency. Along with some of the most common locations spill kits are found, and tips on how to choose the right spot for your own facility.
The Kit Location Will Vary Depending on the Type of Business
When it comes to spill kits, one size does not fit all. And that's because not all businesses deal with the same types of liquids and chemicals. Or, keep the same quantity or volume of these fluids on site. Not to mention, the physical footprint and layout of individual facilities can vary greatly.
Which means that different types of spill kits, and the best place to store them, is specific to each individual business.
Common Places to Find and Store A Spill Kit
As you're no doubt aware, spills can—and will—happen anywhere. Therefore, kits for cleaning up spills can also be placed anywhere around the workplace.
Be it on a wall, under a workbench, or even inside the cab of a truck. From laboratory areas to outdoor storage tanks. In waste collection areas, on fuel pumps, and just about everywhere else you can think of!
So, let's take a look at common sites where spill response kits might be found, in and around different types of workplaces.
Automotive and Machine Maintenance Shops
What comes to mind when you think about an auto maintenance or machine shop? Perhaps a busy workshop floor staging vehicles and machinery that runs on fuel, oils, lubricants, and coolants. Or, motor engines powered by batteries containing corrosive acid.
All of these pieces of equipment can leak, or, encounter a spillage. Especially when fluids are being replaced or faulty parts are being worked on in different areas of the shop floor.
Therefore, it's a good idea to place a specialty kit for battery acid leaks on a wall near charging stations. Meanwhile, keep a 55-gallon drum oil spill kit beside storage areas that house large volumes of hydrocarbons. Conversely, stage smaller kits on your workbench for handling solvent or coolant spills.
Manufacturing and Industrial Sites
Industrial and manufacturing facilities usually have various potentially hazardous materials on site. Often in large volumes (think drums and IBC containers filled with all types of liquids). When these materials are moved or mishandled, leaks and spills can occur.
In which case, kits for hazardous chemical spills can be mounted to the wall in storage locations (and likely spill zones). Or, use jumbo kits in a mobile cart that can be easily wheeled around a warehouse floor for fast emergency response. Small, portable kits can also be stored on things like forklifts for operators who may be the first to notice a spill.
Transportation Fleets and Loading Docks
On any given day, companies move countless items around the country, and world. Shipping logistics can involve all manner of vehicles: trucks, ships, trains, planes, vans, trailers, and more.
Containers of all sizes and shape can shift during transit, which means there is always a chance of something getting damaged and leaking. Likewise, docks are incredibly busy places when it comes to loading and unloading those shipped goods.
Having an accessible kit on the wall or floor of your docking bays means that spills can be taken care of immediately. Similarly, a small spill kit stowed in a truck cab provides cleanup materials in the event of a spill on-the-go.
Laboratories and Medical Facilities
When it comes to lab safety, kits for spill cleanup should be as synonymous to these facilities as white lab coats. Along with personal protective equipment (PPE) like nitrile gloves to minimize exposure to harmful liquid spills.
That's because these environments often house hazmat materials like acids, or could even have a mercury spill. So it is important that lab facilities have specialized chemical spill kits. For instance, kits containing PPE, granular absorbent materials and neutralizing agents. Plus a chemical-resistant dustpan to sweep everything up. Even dealing with a small spill can put employee health and safety at risk, otherwise.
Convenient lab pack kits are a great option to tuck under benches and work stations. They contain items like absorbent socks and pads that can be used to quickly wrap around and soak up spills.
Likewise, you can store a body fluid cleanup kit onboard medical carts to safely clean up biohazards like blood.
Fluid Dispensing Stations and Fuel Pumps
Spills are common when transferring materials between containers. Especially when fuel pumps or drum faucets are involved.
So, naturally, a spill control kit is especially important in these types of locations. The absorbents in it can help prevent spills from entering drain systems or other sensitive areas.
Large lidded drum kits make an excellent choice for these sites. Position the kit beside the fuel station and then use the chemical resistant container to toss soiled sorbent materials.
Marina and Boating Areas
Oil spill kits containing sorbents that float on water while absorbing hydrocarbons are ideal for marine sites. Oil and water don't mix. So kits containing absorbent pads, socks, or booms are perfect for soaking oily sheen off the water's surface.
Tuck an oil absorbent kit inside a motorized vessels' cabin where it's easy to grab. Or, near its engine and fueling zone where leaks might occur.
A mobile caddie is a handy way to transport supplies that are staged in a port building entry to spills on water.
Tips For Deciding Where to Keep a Spill Kit
Tip #1: Understand Potential Spill Sites in Your Workplace
A key component of a company's spill containment plan is documenting all the different liquids your facility uses and where they are kept. Use this information as your starting point to map out the best locations to position spill kits. After all, one of the best ways to decide where you need a kit is to look at where you're most likely to have spills occur.
It's easy to think of hazardous chemical or bulk material storage areas. But don't forget about less obvious locations as well. For instance, janitorial cupboards will likely contain a variety of solutions. Like bleach, disinfectant, and other potentially hazardous liquid cleaners.
A diagram drawing of the facility can help identify the locations of each kind of container and how much material is stored there.
Tip #2: Keep Your Kit Accessible
As outlined above, it is best practice to store kits near the location where spills can happen. But, it is equally important to keep a kit for an emergency spill in a place where employees can easily access it. And not locked away in a cupboard, for instance.
Fortunately, there are many types of spill kits available offering quick and easy access. Including those that are designed to be placed under the counter. As well as kits that can be situated on the floor, wall, or be carried around in a bag.
It might seem practical to keep all your employee health and safety equipment in one location. Such as an area with a safety shower, spill and first aid kit. However, you want to avoid creating secondary hazards.
Consider an emergency where one worker needs materials to respond to a spill. Meanwhile, another person needs first aid to treat an injury caused by the spill. Immediate access to emergency response supplies could be compromised if everything is stored in one spot.
Tip #3: Make Sure Kits Are Visible
Often, chemical spill kits come with a bright colored red or yellow container. (That can double as a place to put soiled hazardous waste materials after the clean up is done). This can help make sure they are easily seen on a wall or shelf.
Otherwise, large wall or floor signs can also act as useful reminders of where spill kits are located. Signage can be particularly useful for kits kept in less obvious locations, like under a workbench.
Lastly, the container itself should also have a large label detailing what type of kit it is. For example if it's a chemical, oil, universal or specialty kit for things like corrosive acids or blood. An itemized list of the kit's contents can also be useful, along with any specific instructions inside.
Tip #4: Remember to Train and Maintain
Employees should always receive training on where spill response equipment is located at work. As well as refresher training on spill clean-up procedures. Practice spill drills to properly prepare employees for hazardous emergencies.
Dealing with a smaller spill might be as straightforward as using a broom, dustpan and absorbent materials. However, biohazard and acid spills are more complex. Employees need to know how to use all necessary personal protective equipment—like respirators—in a hazmat kit.
Additionally, it's also important for employees to familiarize themselves with safety data sheets for the various materials used at a job site. This should help inform them about whether a chemical or oil spill kit is the appropriate choice for response.
Finally, it is essential to periodically check and maintain your emergency spill kit contents. For instance, some PPE—like nitrile gloves—can degrade when kits are not kept in climate controlled locations. And absorbent pads and other absorbent materials may need replacing if the kit it is stored in a wet environment. Especially if it has an inadequately sealed container.
Final Thoughts
Having an appropriate plan for liquid spills and clean-up procedures is essential for a safe workplace. It's also an OSHA requirement for hazardous substances. So, in the event of a spill you need to be ready with good spill containment and cleanup materials.
However, depending on the type of facility you work in, there will be different designated places for spill kits. In general, they should be placed near potential spill sites, but not so close that they could become a secondary hazard.
If you're not sure what type of kit you need, or where to put it, get in touch with AbsorbentsOnline for help making an informed decision. You can also find answers to common queries about spill control kits and supplies, below:
Frequently Asked Questions