Safety showers are a must for any workplace that handles corrosive chemicals or other harmful substances. Because even with the best safety protocols in place accidents can—and will—happen. Meaning shower and eye/face wash equipment become a critical step before seeking medical attention.
So, naturally, the location of the shower equipment matters. For it to be most effective, a shower or eye wash station needs to be easy to access. Since in the case of an emergency, every second counts. But what else should facilities consider when identifying the best location for a safety shower?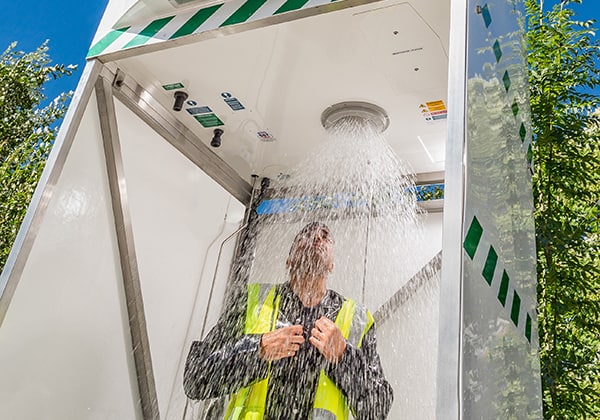 In this post, we look at factors influencing where emergency showers should be located. Including shower requirements and regulations for this important safety equipment.
What is the Purpose of an Emergency Safety Shower?
Safety showers are designed to flush harmful materials from a person's skin, eye area, or clothes. Used correctly, emergency eyewash and shower equipment helps people avoid serious injury.
A worker might use a shower or eyewash unit following a chemical exposure incident. For example, if an acid or other dangerous contaminant accidentally splashes them. The shower's continuous flow of flushing fluid provides decontamination and first aid. By preventing a chemical burn on the area that contacted the hazardous material.
In a nutshell, emergency showers play an essential role in employee health & safety. They are also a requirement for many industries per the Occupational Safety and Health Administration (OSHA). Specifically, 29 CFR 1910.151 for Medical Services and First Aid states:
"Where the eyes or body of any person may be exposed to injurious corrosive materials, suitable facilities for quick drenching or flushing of the eyes and body shall be provided within the work area for immediate emergency use."
Which Workplaces Need Safety Showers?
Under the OSHA regulation above, shower equipment is necessary for many types of facilities. They are commonly found in factories, warehouses, laboratories, schools, and hospitals. Which are often work environments already using other worker safety and protection measures: think gloves, safety glasses, and other personal protective equipment (PPE).
A risk analysis can assess the potential hazards of a work area or job role. This helps decide if a shower, or its type, is a necessity or not. One way to identify associated risks with materials used on site is by reading their safety data sheets (SDS). For instance, understanding if chemicals are caustic to the skin therefore posing potential harm to the entire body. Or, are a more localized hazard, like vapor emissions that may irritate the eyes.
Then, the equipment selection needs to appropriately match the hazard. This may mean installing a shower, eye and face wash station, or both. In fact, some shower stations are available as a combination unit. With the shower accompanied by an eyewash or drench hose.
But, it's important to use the appropriate equipment to treat different areas of the body. Especially, when it comes to eye/face wash units. That's because eyewash nozzles provide a more gentle water flow than a drench or shower head. Which avoids additional damage to the delicate eye area while rinsing away a corrosive chemical.
Where Are Safety Showers Installed?
Whether it's a manufacturing plant or a chemical laboratory, no two workplaces are exactly alike. Therefore, each type of facility will have its own set of needs when it comes to emergency safety showers. Including different types of eyewash or shower activation designs, and their location.
Safety showers can be permanent and plumbed indoors or outside. Or, even portable units with a potable water supply—particularly for outdoor or remote job sites. Shower heads may be installed from the wall or ceiling. As well as freestanding floor models, cubicles, and mobile tank units.
Similarly, eyewash units can be plumbed to a wall, or, inset on lab workbenches. Portable eye/face wash equipment can be gravity-fed or use a pressurized tank.
While OSHA directs the use of workplace safety showers, it doesn't cover location and installation specifications. That guidance falls to the American National Standards Institute (ANSI) and the International Safety Equipment Association (ISEA). Under the ANSI/ISEA Z358.1 Emergency Eyewash and Shower Equipment standard. Which details everything from specific installment measurements, distance from obstructions, and more.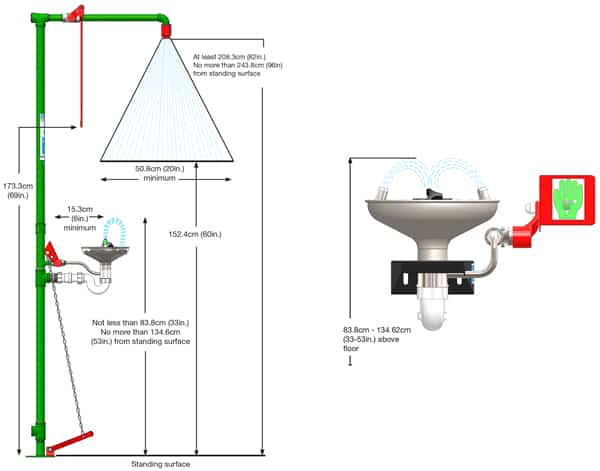 Example Locations for Safety Showers and Eyewash Stations
A ceiling mount drench shower next to an industrial facility's battery charging station.
Workbench mount eyewash in a laboratory facility that handles chemicals.
Outdoor portable tank shower cubicle for workers undertaking chemical spraying operations.
Eye/face wash station in manufacturing sites where grinding, sanding, or machining operations cause debris and dust.
Combination shower and eye/face wash units in factories with hazardous substance dispensing areas.
Considerations for the Best Safety Shower Placement
Referencing ANSI standards, as well as common sense, here are some important factors when it comes to the location of your workplace emergency shower.
Distance from Possible Hazards
The further away shower stations are from potential accident sites, the greater the risk of serious damage increases. Particularly if a person has impaired vision due to hazard exposure.
Therefore, emergency showers and eyewash stations should be no more than 10 seconds away from a potential hazard. This translates to around 55 feet. But may need to be closer in the case of more harmful chemicals, like a corrosive acid.
It's equally important that emergency eyewash or shower facilities be on the same level as the potential hazard. So they should not be on a higher or lower floor level that requires using stairs or ramps.
Position from Nearest Obstructions
Wash stations must have a completely clear pathway to access them. Meaning it must be free from any obstacle that could get in the way. For example, workers should not have to pass through doorways or navigate around equipment or partitions to reach one.
This requirement also applies to the unit's installation site. Eyewashes should be a minimum of 6 inches away from a wall. While enclosed showers must have an unobstructed area of 34 inches in diameter.
Supply of Tepid Water Temperature
An emergency shower should provide tepid water for a rinsing time of at least 15 minutes. ANSI defines tepid as being a temperature between 60-100°F. Thereby avoiding additional risks of hypothermia, shock, or burns while a person flushes an affected area.
Portable or outdoor units can sometimes present challenges with maintaining water temperature. So, heating elements or insulation may be necessary for exterior pipework or potable water sources. Likewise, indoor showers may also require a tempering or temperature control valve.
Sightlines and Visible Signs
Eyewash and shower stations need to be highly visible so workers can see them from every direction. Hence, wall or floor signage must clearly identifiable with easily recognizable symbols and words.
The location of the shower and its signage also needs to be well lit. Otherwise, getting to a safety eyewash or shower may be difficult for a person with chemical residue in their eyes that impairs their vision.
Isolation and Privacy
Depending on the circumstance, it is often necessary to remove clothing when a person uses an emergency shower. This is because chemical contaminants are likely to stay trapped in clothing, increasing the risk of harm. Optional shower modesty curtains are one way to help preserve a user's privacy.
Sometimes sites may have minimal workers present in one hazard area. So, installing an audible or visual warning alarm is another safety precaution. This system can alert others when a shower is activated, so they can respond accordingly with aid.
Additionally, consider locating showers nearby to an emergency exit. This helps emergency responders more quickly reach and provide medical attention to a shower user.
Quantity and Type
Some workplaces keep large volumes of hazardous chemicals on-site, with many workers performing related handling tasks. This means one single incident can affect multiple people who need to use an eyewash or safety shower station at the same time.
Therefore, the number of safety showers, eyewash stations, or combination units should be subject to the number of workers your facility employs. Or, how many could get affected by a hazardous chemical accident at one time.
Different configurations of equipment may also be necessary. With separate stations for an eyewash, shower, and drench hose.
Optimal Operating Function
Regularly checking safety showers and eyewash stations is another important process. ANSI advises inspecting shower safety equipment every single week. Including an activation test for plumbed units. This is to ensure flushing fluid is available and the shower nozzles operate as expected.
For portable equipment, this may mean replacing the water or treating it to maintain sterility.
Final Thoughts
Emergency eyewash stations and safety showers are important for any workplace using hazardous materials. As an effective backup solution to help prevent chemical exposure or contaminants from harming its employees. However, all workplaces are different and so will have unique shower requirements. Following ANSI Standard directives will ensure equipment is in the best location and operates effectively.
Making sure you have enough eyewash and showers stations is crucial. They should be located in the most accessible area of your facility. Keep them well-lit and free from obstruction. And remember to check shower flow rates regularly, and ensure they remain in good working order.
If you need more information about emergency safety showers or eyewashes, get in touch with AbsorbentsOnline today. We'd be happy to help.
Frequently Asked Questions