[sc:date]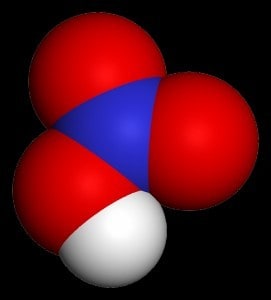 Also known as aqua fortis, nitric acid is a highly corrosive acid and equally strong oxidizing agent that's frequently used in the production of fertilizer and rocket fuel. Due to its dangerously corrosive characteristics combined with toxic fumes, however, spills create a serious hazard to nearby workers. If you own or manage a company that handles nitric acid in any way, shape or form, you should have a plan in place for safely cleaning up a spill. To learn more about the dangers of a nitric acid spill and how to clean them, keep reading.
Permissible Exposure
Let's first talk about the permissible exposure limits of nitric oxide, as this is a topic that's oftentimes avoid or misunderstood among companies and business owners. The Occupationa Safety and Health Administration (OSHA) currently states that the permissible exposure for nitric acid is 2 parts per million parts of air over the course of eight hours. Companies can refer to the NIOSH report for more information on permissible exposure limits of nitric oxide.
Dangers of Nitric Oxide Exposure
Nitric acid gas and fumes may cause eye, throat, respiratory and skin irritation. Prolonged exposure to high levels of nitric acid can lead to severe eye burning and even blindness. Exposure levels of nitric acid are oftentimes gauged by viewing the employee's skin; minor exposure may have minimal impact on the skin, but severe exposure can result in severe burns.
Warning: combining water to a nitric oxide spill may only make it worse. Water not only spreads the acid, but it also reacts to it. The bottom line is that you should never attempt to clean up a nitric oxide spill using water.
Cleaning Up a Nitric Acid Spill
Nitric acid spill cleanups first begin with the right personal protection equipment (PPE). As previously stated, both the fumes and direct exposure to liquid nitric oxide are hazardous to humans; therefore, workers should gear up in a pair of industrial-grade safety glasses along with gloves, lab apron, and a respirator. Once the worker is properly geared up in the appropriate PPE, they can begin to clean up the spill.
There are several different solutions available for cleaning up a nitric acid spill, but it's usually best to use some form of acid absorbent. An acid neutralizer absorbent, for instance, will safely soak up the nitric acid. And once the acid is fully soaked up and neutralized the powder can be disposed of.