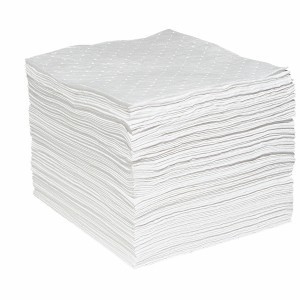 Our economy oil spill clean up absorbent pads and rolls are a cost effective sorbent for oil spills. These efficient absorbent pads absorb all petroleum based fluids including solvents, solvent based paints, vegetable oils and many other non soluble chemicals and repels water based liquids.
These pads are made of quick wicking melt blown polypropylene. These oil absorbent pads work equally well on land or water... it even floats when fully saturated. Great product for absorbing oil sheen on water.
Large diameter melt blown polypropylene fibers create a lofty pad that allows it to absorb up to 42.8 oz per 15" x 19" pads and 63.4 gallons per heavy weight roll.
The bright white color makes it easy to see when the pad is completely saturated, which saves you money by not throwing it away too soon. Economy oil absorbent pads are not perforated nor are they dimpled.
Please see our high performance absorbent pads for perforated and dimpled pads and rolls.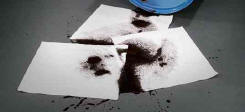 Absorbs Petroleum.
Lowest Priced Pad.
Fast Wicking Absorbent.
NEW LOWER PRICES, NEW SIZE PADS!
Pricing and Order
Item
Description
Our Price
Qty.
AWP100HS
Economy Oil Absorbent Pads
Heavy Weight 15"x19", 100/case, abs. 33.4 gal/case, 13 lbs.
41.99
AWP100MS
Economy Oil Absorbent Pads
Medium Weight, 15"x19", 100/case, abs. 26.7 gal/case, 11 lbs.
36.99
AWP200SS
Economy Oil Absorbent Pads
Light Weight 15"x19" 200/case, abs. 35.7 gal/case, 15lbs.
42.99
AWPK50HS
Economy Oil Absorbent
King Pads Heavy Weight
30"x30" 50/case, abs. 52.8 gal/case., 21 lbs.
72.99
AWRS150HS
Economy Oil Absorbent Rolls
Heavy Weight
15"x150', Absorbs 63.4 Ga. per case.,2/rolls, 26 lbs.
81.99
AWR150HS
Economy Oil Absorbent Rolls
Heavy Weight,
30"x150', Absorbs 63.4 Ga. per case., 1/roll, 26 lbs.
81.99
We Appreciate You Shopping Us For Your Clean Up Products Needs!
If you do not see the pad you want, See All of our Absorbent Pads
Save Money on Shipping! Stocked in 6 warehouses across the country.