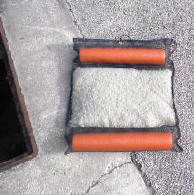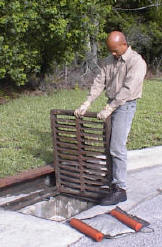 Our Passive Oil Skimmer allows you to remove spilled oil permanently from storm drains and catch basins.
Keep some on hand in case of emergency spills. Stay compliant with Federal Laws on storm water protection.
Unique polymer absorbent bonds the oil to the polymer matrix - prevents leaching.
Will not create ponding or clog due to sediment.
One 22" x 14" x 2" unit can hold up to 2 gallons of oil.
Floats on water surface - continuously absorbs oil.
Fits most catch basins, sumps, vaults and holding tanks.
Helps you comply with NPDES, 40 CFR 122.26 (1999) when used as Best Management Practice in Storm Water Pollution Prevention Plans.