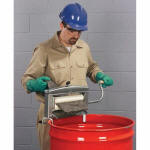 Economy Model - Item # A-WringerW.This wringer reclaims up to 90% of the fluids from absorbent pads and rags. You will be able to reclaim most of the fluids absorbent, reuse your absorbent pads and be a little more "green" in the process.
All-steel, rustproof frame will give you many years of service. Zinc plated finish with steel tube handle. The rollers are made of hard bonded rubber and are molded to steel shafts. The bearings never need to be lubricated.
Adjustable screw in the center balances pressure over the length of the roller . Mounts on the side of a 55 gallon drum or round or square metal tubs. Fluids extracted are ready for recycling or disposal.
Clamps open to 1 ¾" Rollers are 12" x 1 ?". Not for absorbent socks.
Order below online or call (800)869-9633. Click this link to see our complete line of products.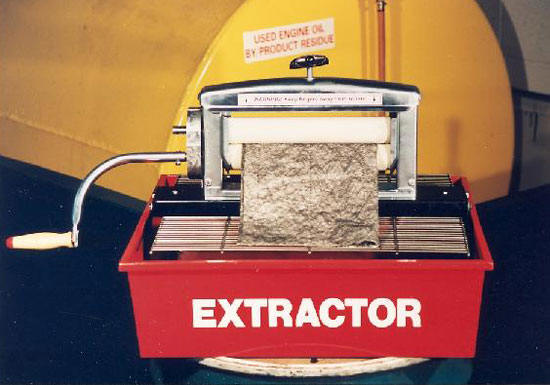 Standard Model Wringer - Item #A1000W This Standard model wringer is a heavy duty hand wringer capable of removing fluids from any flat absorbent pads, towels, wipers, rugs, carpets and flat booms. Built to last.
With this oil extraction system there are new features to make roller extraction of sorbents a viable option to minimize waste. In a report by the EPA titled"A Fluid Sorbent Recycling Devise for Industrial Fluid Users" they concluded that by using a wringer it pay for itself in 2.8 — 5 weeks and that annual savings of 51% - 75% could be realized. Technology Evaluation Report - EPA
The Extractor has duel gear driven, 12" wide chemical resistant rollers which open to approximately ½". Your wet towels, sorbents or rags will compress to approximately ½" to ¾" or less. Flat booms and standard sheets and pads also work well with this wringer. For extracting larger sorbents and 3" absorbent socks the Pro model would be a better choice. This model sits into the DrainMate funnel which mounts to a closed-head 55 gal drum and has a built-in anti-spill valve.
This wringer has a 24"x24"x8" collection sink and 12" chemically resistant rollers. Anti-spill drain tube and heavy duty adjustable dual gear driven rollers. Made of heavy duty steel.
It is quicker to wring out towels prior to putting them in the drier then to put them in wet. You will save on utility costs. If you are dealing with oil or chemical soaked absorbents you can reuse them or if you do not reuse them it is less expensive to dispose of dry absorbents then wet ones.
Order below online or call (800) 869-9633. Click this link to see our complete line of products.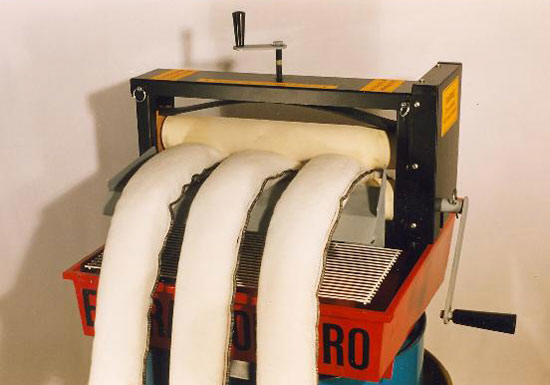 Pro Model Wringer - Item #A1500W The Pro Model Wringer incorporates new features to make roller extraction a valuable option for waste minimization. Mounts to a Closed-Head 55-gal drum and has built-in anti-spill valve. 19" rollers accept 18" pads with no folding, as many as 4 each 3" socks at one time plus 5", 6" and some 8" booms. Has optional hands free electric Motor-Drive. Custom size extractor widths and custom voltages are available.
An annual cost savings of 51% - 75% could be realized according to a study done by the EPA. Technology Evaluation Report - EPA
Click on pictures below to enlarge

Extra Heavy Duty Design for Commercial/Industrial/Professional Use. Special 24"x24" collection sink. User friendly operation with safety features. Can be run by one person. Easy maintenance and cleaning.

It Mounts to a Closed-Head Drum. Many states EPA & Fire Codes do not allow hazardous liquids to be collected in an open head drum. Absorbents or other items cannot fall into drum.

Has a Unique Feed Shelf & Drainage Grid. The feed table/guide makes starting items to be cleaned easy.

Has Adjustable Roller Opening (0-2"). Allows up to 2" of roller separation for saturated booms and socks.

Has the Largest Roller Width Opening in the Industry, 19". The 19" allows 18" pads go through without folding. Labor saving and increased productivity.

Specially Surfaced Rollers and Nitrile Roller Material. The texture of the rollers help to move material through the system more effectively and disburse liquids faster. Nitrile material is used on the rollers because it is pliable and resistant to chemicals and hydrocarbons.

Offset Roller Design and Double Spring Roller Guides. Offsetting makes easier and quicker starting of material and additional safety for fingers. Spring loaded rollers provide pressure in both directions making it easier to start thick items like socks and pillows.

Quick Release Pins And Adjustable Spring Pressure.
By pulling one pin you can quickly release all pressure. A major safety point. Leaf springs with infinite adjustability means you can fine-tune the roller pressure to your needs.

Both Rollers are Driven (Powered).
Dual-roller chain driven rollers are essential to accommodate slippery and hard to start materials.

Designed for the Optional Auxiliary Power Unit (APU). No more hand cranking required. The APU utilizes an ultra heavy-duty reversible dual roller geared motor with foot pedal on/off in a NEMA spec housing. Now both hands are free to feed material and any desired level of de-saturation is practical without fatigue. The APU features a keyed switch to provide full access control to only authorized operators. Quick disconnect pins on the head of the unit provide quick pressure release of rollers. Available in 110-120V AC and on special order 12V DC.
Order below online or call (800) 869-9633. Click this link to see our complete line of products.
Quick Overview
Three models to choose from.
Pro model has optional power unit.
Wringers pay for themselves over a short period of time.
EPA report documents savings.
Go green - recycle.
All units heavy steel construction.
Annual savings of 51% - 75% possible .
Recycle your absorbents. Wringers can pay for them selves in months. See these special EPA reports
Technical Info
See details below for each item.
Compliance Info