Breeze through winterization with our absorbents and maintenance tips for boaters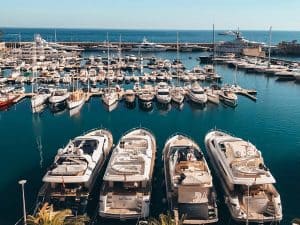 Ah, the bittersweet end of summer – the time when you reluctantly bid adieu to those sun-soaked days on the open water… School is long back in-session, and in many areas, warmer weather is quickly coming to an end. For boat owners, this heralds the end of the sailing season and means it's about time to store your skiff until next spring's adventures.
Regardless of whether you're a DIY enthusiast or rely on the expertise of a marine mechanic, preparing a boat for hibernation can be a messy affair. Spills and leaks are a common occurrence, from fuel and oil to transmission fluids.
But worry not; with the right products at your disposal, you can swiftly and efficiently tackle these mishaps. Being prepared to respond to a marine spill is not just a responsible practice; it can also help you avoid potential environmental repercussions.
Here's everything you need to know about marine absorbents and how to make them an essential part of your boat maintenance toolkit.
Review Your Winterization To-do List
Before you put the boat into storage, you'll likely need to perform some winterizing tasks. Because boats and engines differ greatly, it's always a good idea to first start by checking your owner's manual for specific winterization instructions. But, a few of the more common activities you'll likely need to complete include:
draining fuel lines;
draining the fuel tank or, alternatively, filling it and adding stabilizer;
changing the oil and transmission fluid;
draining and refilling gear case lubricant; and
removing the battery, charging it, and storing it.
Whether doing these tasks yourself or using specialized marine services, it's very easy — and common — for fuel or other fluids to spill in the water or on land. Therefore, both boat owners and marine mechanics need to make sure they have the appropriate products on hand to quickly respond to such accidental marine spills. We'll take a look at some of those items in more detail next.
Marine Absorbent Must-Haves
To keep your watercraft in ship-shape condition and adhere to federal regulations regarding marine oil spills, having the right marine absorbents on hand is a must.
Conveniently, the same products used to clean up large ocean oil spills are available for boat owners and mechanics alike. These products will absorb hydrocarbons, like oil and gasoline, but have hydrophobic properties — meaning they repel water.
Here are a few versatile marine oil-only products that should be part of your arsenal, for maintenance needs and more:
Oil Absorbent Pads
Pads and rolls are perfect for applications that demand low-lint or to mop up smaller spills.
Specially designed to absorb hydrocarbons like oil and gasoline while repelling water, they're an indispensable tool for preventing environmental damage.
✅ Use pads to wipe down equipment, greasy hands, or to lift oily sheen off the water's surface.
Oil Absorbent Socks
Made from non-biodegradable materials, these flexible, floating socks can absorb up to 15 times their weight in oil spills.
Their buoyancy ensures they stay afloat even when saturated, making them ideal for quick spill response.
✅ Wrap one or more sock around a spill's perimeter — be it on land or water — to prevent it from spreading.
Oil Absorbent Pillows
Perfect for tight spaces, compressible pillows are designed to quickly and efficiently absorb leaking fluids.
Their compact size makes them a go-to choice for dealing with those hard-to-reach spills.
✅ Soak up spillages by tossing a pillow directly on top, or, wedge one in a corner and under leaky hoses in lieu of a pan.
Oil Absorbent Booms
Specialty oil booms are designed to float on water while effectively absorbing hydrocarbon spills; all without sinking.
In the event of a spill, booms are a lifeline for preventing contamination and environmental harm.
✅ Connect one or more boom together to encircle a larger spill if it exceeds the clean-up capabilities of socks or pads.
Bilge Booms and Bags
Stout and sturdy marine booms and bags are ideal for removing oil — not water — from your bilge, sump, or tank.
They're wringable, dustless, and will float indefinitely as a convenient and eco-conscious option.
✅ Deploy bilge booms or bags inside any engine compartment or tank to keep it free of oily pollutants.
You might also want to explore the large selection of oil-only spill kits available that contain one or more of these absorbent solutions. They can prove an invaluable solution to keep on board in case of an emergency spill or unexpected leak.
The best part? These marine oil-absorbent products are not just effective; they are also incredibly affordable. For both boat owners and marine mechanics, having these items on hand year-round is a smart investment. With these marine oil spill kits and absorbents, you or your mechanic can take care of an engine leak or a spill before it becomes an environmental problem.
Meeting Federal Regulations for Marine Oil Spills
Understanding and complying with federal regulations related to marine oil spills is a responsibility that every boat owner and marine mechanic must take seriously. The United States has stringent laws in place to safeguard our waters and aquatic ecosystems from the adverse effects of oil spills. One such regulation is the Oil Pollution Act (OPA) of 1990.
The OPA established the framework for responding to oil spills and preventing them in the first place. It mandates that vessel owners and operators must have a plan in place to mitigate oil spills and outlines the actions to be taken when a spill occurs. By having a supply of marine absorbents on hand, you not only meet OPA requirements but also demonstrate your commitment to environmental stewardship.
AbsorbentsOnline: Your Go-To Source for Marine Absorbents
To ensure you're always prepared for any marine spill, AbsorbentsOnline is your trusted partner. Whether you're a seasoned boat owner or a marine mechanic, we offer a wide range of marine oil absorbents to keep your vessel clean and environmentally responsible.
Don't hesitate to reach out to us for any questions or assistance. You can contact us via email or call toll free at (800) 869-9633.
This is a revision to a blog post with an original publication date of September 24, 2014.