Lower a bilge sock, bilge boom or net bag into your bilge, sump or tank to remove oil, not water.
Our bilge absorbent products will not sink, even when saturate. They will float indefinitely, can be wrung out and are dustless. They are impervious mildew. Do the environment a favor and save yourself from potential fines by cleaning your bilge of pollutants.
Our bilge products are available in three types.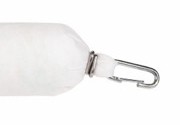 Bilge Sock
This 3 inch diameter bilge sock is slightly flexible and the right size to fit into almost any bilge, sump, tank or engine compartment.
Great for small, hard to reach places. A heavy duty metal clip is attached to each sock for attaching a rope for easy retrieval.
This sock will absorb oils, gas and diesel fluids while repelling water. It will not sink even if saturated. The outer poly sleeve is tough, chemical resistant and will not shed.
The bright white color allows you to see how saturated the sock is.
Bilge Boom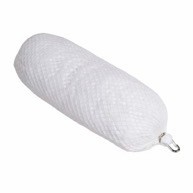 This larger 8 inch diameter bilge boom comes with an outer mesh sleeve which encases the poly blend super absorbent boom. A metal clip on the end of each boom allows you to connect booms to each other or attach a rope for easy retrieval.
This boom is constructed with sturdy hardware for long lasting durability.
As with the bilge sock, our bilge booms are highly absorbent, repel water, will not sink even if saturated with hydrocarbons and are white in color.
Absorbent Net Bag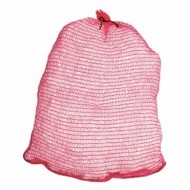 Our net bags are a loose poly blend absorbent encased in a nylon mesh bag. They have a large surface to absorb large amounts of hydrocarbons on the water including the oil sheen.
The sturdy nylon bag material allows you to leave them in place for longer periods of time.
With a case of 10 bags absorbing up to 37 gallons of oil, they are economical and a good safety measure to have on hand just in case of a spill. Depending upon stock the outer bag is red or blue.
Quick Overview
Will Float Indefinitely
Strong Outer Net Sleeve
Super Sorbent Poly Blend Filler
Hyrophobic - Repeals water
Metal connectors on ends of socks and booms
Prevent pollution and possible fines

NEW Lower Prices